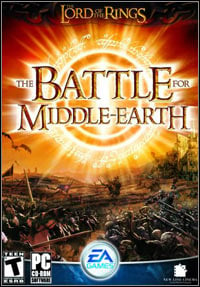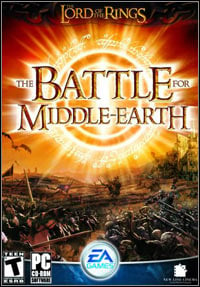 The Lord of the Rings: The Battle for Middle-Earth
PC
A real-time strategy game developed by EA Los Angeles. The title takes place in the fantasy universe of Middle-Earth created by J.R.R. Tolkien.
Strategy | fantasy | RTS | books | The Lord Of The Rings | videos
The Lord of the Rings: The Battle for Middle-Earth

Release Date PC

06December2004
developer: Electronic Arts Inc. publisher: Electronic Arts Inc. Official website

game language: English
The Lord of the Rings: The Battle for Middle-Earth for PC is another video game based on the very popular cinematic trilogy – The Lord of the Rings. It is a classic real-time strategy game (which means that it combines combat with economic resource managing and base building) created by EA LA (previously known as EA Pacific), team that developed Command & Conquer: Generals.
Mechanics
The Lord of the Rings: The Battle for Middle-Earth for PC allows playing in single- and in multiplayer mode through local network and Internet. Singleplayer offers two campaigns (a total of around 30 missions), one for the forces of good and one for the forces of evil. There are four nations available – riders of Rohan, soldiers of Gondor, army of Isengard and legions of Mordor. Each nation has unique weapons, tactics and resources they use – in general, each has its advantages and weaknesses. For example, riders of Rohan are using fast cavalry units, Gondor has excellent infantry that are especially useful in defense, Isengard uses Uruk Hai (a combination of humans and orcs) and Mordor has hundreds of orcs and trolls and powerful monsters like Nazguls. Various war machines are used in combat, including siege towers, trebuchets and catapults. During a stronghold siege, various traps can be used by the defenders such as hot oil etc. There are famous and powerful heroes (with their unique spells and powers) participating in combat, including Gandalf, Gimli, Legolas and Aragorn.
Since in The Lord of the Rings: The Battle for Middle-Earth for PC player controls hundreds of units in combat, the developers implemented a more advanced command system than in majority of RTS games. During large battles, player doesn't command each unit separately, but instead gives orders to whole battalions and companies (the system is similar to the one from the Total War series).
Technical aspects
The Battle for Middle-Earth for PC uses an improved engine from C&C: Generals. The main focus was to recreate the biggest battles from the trilogy, including the Battle of Helm Deep (up to 500 units can be seen simultaneously on the screen). The developers tried to create very interactive environment, allowing for example a troll to tear out a tree with its roots and then use it in combat as a giant club. An Ent can pull out a rock from a wall or other building (thus damaging it) and throw it at enemy.
Last updated on 10 December 2007
Game mode: single / multiplayer Multiplayer mode: Internet
Media type: 1 DVD
User score: 8,6 / 10 based on 6433 votes.
PEGI rating The Lord of the Rings: The Battle for Middle-Earth
The Lord of the Rings: The Battle for Middle-Earth System requirements
Recommended:
Pentium 4 1.4 GHz
512MB RAM
graphic card 32MB (GeForce 2 or better)
4 GB HDD
Windows 2000/XP