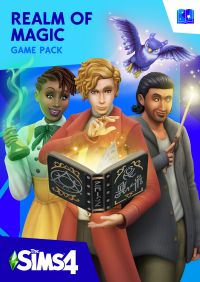 The Sims 4: Realm of Magic
Add-on to the popular life simulation The Sims 4, the Realm of Magic expansion enriches the game with a magical land where heroes can learn how to spell and brew enchanted potions, as well as gain a hiding place and a lot of new items.
This is The Sims 4 expansion pack.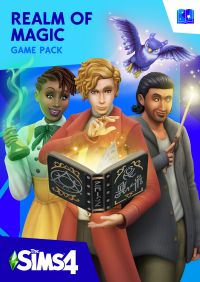 The Sims 4: Realm of Magic is a further expansion to the fourth installment of the popular Electronic Arts series. The project was developed by EA Maxis studio, i.e. authors of all productions from this brand.
Mechanics
Realm of Magic is a traditionally designed expansion whose main goal is to expand the game with new elements and options. Thanks to the addition, there is a portal leading to the fantastic land known as Glimmerbrook, which includes both a cosy town and a gloomy forest. .
In this place the heroes will meet masters of magic who will teach them spells that will allow them to conjure up food or turn humans into objects. In Glimmerbrook, players also get the opportunity to experiment with elixirs, ensuring immortality and the removal of curses. There were also fights with other adepts of magical arts.
Another attraction is the possibility to summon a creature, such as a dragon or a fairy, who will protect our sim and help him with his tasks.
The add-on also offers a lot of new clothes such as cloaks and dresses and accessories. Some of them have magical properties, e.g. allowing the crowd to be enchanted. The authors have also prepared many additional items.
Technical aspects
TheRealm of Magicis a dependent add-on, so you need the basic version of The Sims 4 to play the game.
PEGI Rating
System requirements
PC / Windows
Recommended: Intel Core i5 2.33 GHz, 4 GB RAM, graphic card 1 GB GeForce GTX 650 or better, 18 GB HDD, Windows 7/8/8.1/10 64-bit
Minimum: Intel Core 2 Duo 1.8 GHz, 4 GB RAM, graphic card 128 MB GeForce 6600 / Radeon X1300 or better, 15 GB HDD, Windows 7/8/8.1/10 64-bit