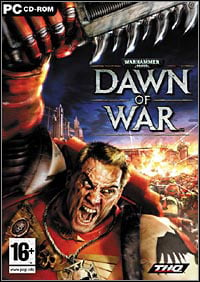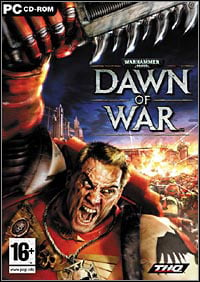 Warhammer 40,000: Dawn of War
PC
A real-time strategy which takes place in the Warhammer 40,000 universe. The game was released as a result of cooperation between the publisher THQ and Relic Entertainment, the studio known for Homeworld, among other games.
Strategy | science fiction | RTS | Warhammer 40,000 | Games Workshop
Warhammer 40,000: Dawn of War

Release Date PC

20September2004
developer: Relic Entertainment publisher: THQ Inc. Official website

game language: English
Warhammer 40,000: Dawn of War for PC is the first real-time strategy that takes place in the Warhammer 40,000 universe. The game was developed in cooperation of THQ (one of the biggest game publishers in the world) with Relic Entertainment studio (authors of both installments of the great Homeworld games). Warhammer 40,000 is a dark, futuristic world known from games created by Games Workshop.
Plot
Despite the fact that Warhammer 40,000 world consists of millions of universes, in Dawn of War the developers decided to focus only on one of them and on a specific war. In singleplayer mode the player can assume the role of Gabriel Angelos, the leader of Blood Ravens Space Marines. Gabriel is trying to stop an Orc invasion on his planet. The story is presented with special movie cutscenes which gradually reveal new secrets and mysteries before the player.
Technical aspects
The game uses three-dimensional graphic engine and the developers made sure that the units look almost the same as their equivalents sold by Games Workshop. The locations, since they aren't important in Games Workshop's games, were created based on developers own imagination. The game has dark, gothic style and two main location types are city ruins and impenetrable jungle which gradually consumes the destroyed buildings.
Mechanics
Similarly as in every other RTS, the base of the game is leading troops to combat. Due to the characteristics of the world of Warhammer 40,000, the combat is very impressive and brutal. Many explosions and lights caused by futuristic weapons, combined with bestial melee combat, piercing opponents, throwing or crushing them, creates an unorthodox spectacle. The game focuses on skirmishes between small military squads, but great battles in which from 80 to 150 units fight on each side, are available as well.
In Warhammer 40,000: Dawn of War there are many factions, known for the universe fans, available. Among them there are: Space Marines who use heavy infantry, powerful weapons with long reach and advanced combat vehicles; Orcs that are effective in melee combat and have great numbers; Chaos Space Marines among which there are powerful Demons and fanatic Cultists. The outcome of battles is determined with tactics and many side factors such as morale, used weapon and cover provided by the terrain.
Resources are important in war as well. However, Warhammer 40,000: Dawn of War doesn't have a traditional model of obtaining vital resources based on base, mine and resource gathering units that then allow creating new units in only few seconds. It wouldn't fit a world in which training a Space Marine takes twelve years and one planet or even a group of planets can produce only one tank part or mine one resource. The whole resource system is based on conquering and controlling strategic locations. The more locations are under player's control, the greater number of troops he receives to protect them. Thanks to that the game lacks situations when controlling only one, key area by the enemy makes it completely impossible to win. There are bases and buildings (energy generators, weapon and ammunition storages, communication centers) in the game, but they aren't the central points, instead serving as the last safe point before the frontline. In these buildings the troops can rest and restock their supplies. These buildings aren't constructed from scratch, but, similarly as units, transported to their destination. For example, Space Marines deliver their equipment from the planet orbit.
Game modes
Warhammer 40,000: Dawn of War, in addition to single-player mode, allows playing in multiplayer mode through local network and Internet. Up to six players can play simultaneously.
Game mode: single / multiplayer Multiplayer mode: Internet Player counter: 1-8
Media type: 3 CD
User score: 8,6 / 10 based on 2075 votes.
PEGI rating Warhammer 40,000: Dawn of War
Warhammer 40,000: Dawn of War System requirements
Recommended:
Pentium 4 2.2 GHz
512 MB RAM
graphic card 64 MB (GeForce 3 Ti200 or better)
2 GB HDD
Windows 98/Me/2000/XP