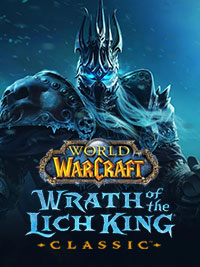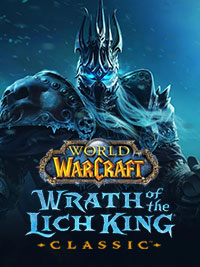 World of Warcraft: Wrath of the Lich King Classic
PC
WoW: Wrath of the Lich King Classic, WoW WotLK Classic
The second expansion to World of Warcraft Classic, which is a faithful recreation of the original Wrath of the Lich King from 2008. This means that it introduces, among other things, a new character class - Death Knight.
This is World of Warcraft Classic expansion pack.
RPG | TPP | fantasy | PvP | PvE | MMORPG | MMO | Find Your Next Game
World of Warcraft: Wrath of the Lich King Classic

Release Date PC

26September2022

26September2022

Battle.Net
developer: Blizzard Entertainment publisher: Blizzard Entertainment Official website

game language: English
World of Warcraft: Wrath of the Lich King Classic is an expansion pack for the MMORPG World of Warcraft Classic. Similarly to The Burning Crusade Classic, the DLC does not introduce any changes compared to the original version - its goal is to recreate the fun of classic WoW with updated graphics.
Plot
The plot of WoW: Wrath of the Lich King Classic revolves around the titular Lich King - an iconic villain for the Warcraft universe, who, at the head of a legion of undead, is coming from the ice-covered Northrend to destroy all of Azeroth. Of course, the player's task is to stop him.
Game mechanics
World of Warcraft: Wrath of the Lich King Classic delivers the same content as the original released in 2008. This means that the DLC will allow us to explore the frigid continent of the Northrend, where a number of new quests and underworlds to explore await us (including the land of Wintergrasp, designed exclusively for PvP duels), up to the final confrontation in the Icecrown Citadel. At the same time, the expansion increases the maximum character level to 80.
The DLC also introduces a new prestige class - Death Knight - which has a unique attack system based on rune energy. Importantly, this time we do not have to meet any requirements to create the first character of this profession (but each subsequent one is already subject to restrictions). In the supplement we will also find another profession - Inscriptions. It is based on improving spells and skills using the collected resources.
WotLK Classic also means seven new raids - Eye of Eternity, Obsidian Sanctum and Naxxramas were made available to the community soon after the release, followed by the struggles in Ulduar, Trial of the Crusader, Icecrown Citadel and Ruby Sanctum.
Last updated on 10 October 2022
Game mode: massive online multiplayer Multiplayer mode: Internet
PEGI rating World of Warcraft: Wrath of the Lich King Classic
World of Warcraft: Wrath of the Lich King Classic System requirements
Minimum:
Intel Core i5-760 2.8 GHz / AMD FX-8100 2.8 GHz
4 GB RAM
graphic card 2 GB GeForce GTX 560 / Radeon HD 7850 or better
Windows 7 64-bit
Recommended:
Intel Core i7-4770 3.4 GHz / AMD FX-8310 3.4 GHz
8 GB RAM
graphic card 2 GB GeForce GTX 960 / 3 GB Radeon R9 280 or better
Windows 10 64-bit