Released XSX Party Video Games
Video Games Encyclopedia by Gamepressure.com
A list of Released Party video games for XSX sorted by popularity among gamers.
Party games. Category of titles that put emphasis on multiplayer mode and interactions between people playing in the same room. Party games are usually collections of arcade minigames. The most popular titles from this genre are such series as Rock Band or SingStar. more
Browse the Encyclopedia by genre and tags. Each game has one main genre: Action, Fighting, Puzzle, Adventure, RPG, Sports, Strategy, Simulation, Party, Racing, Arcade. You can search multiple tags and filter games by platforms, scores, or release dates.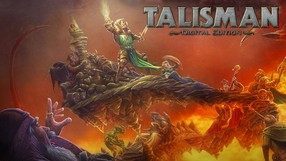 Talisman: Digital Edition
Party 03 June 2021
A strategy game designed mainly for multiplayer play, constituting a computer adaptation of the cult board game Talisman: Revised Fourth Edition. The production and release of Talisman: Digital Edition was handled by the British studio Nomad Games in cooperation with Games Workshop. The action of the game is set in a fantasy reality, and the plot axis is to search for the artifact Crown of Command, whose owner can defeat any enemy and become the ruler of the world.
Out of Space
Party 26 May 2021
Out of Space is a space-based game aimed at cooperation and joint management of the space base. Like Overcooked, players need to demonstrate the ability to plan, communicate and collaborate in order to maintain order, supplies and prevent alien invasions.
Just Dance 2021
Party 12 November 2020
Eleventh part of the well-known dancing games series from the French company Ubisoft. In Just Dance 2021 you will find dozens of songs by pop stars and a lot of gameplay modes - both for single and multiplayer.