News
video games
14 April 2022, 12:32
Halo Infinite Loses to Halo: The Master Chief Collection on Steam
Halo Infinite is doing worse and worse on Steam. Perhaps the title will be saved by the upcoming second season. For now, the game is starting to lose to Halo: The Master Chief Collection.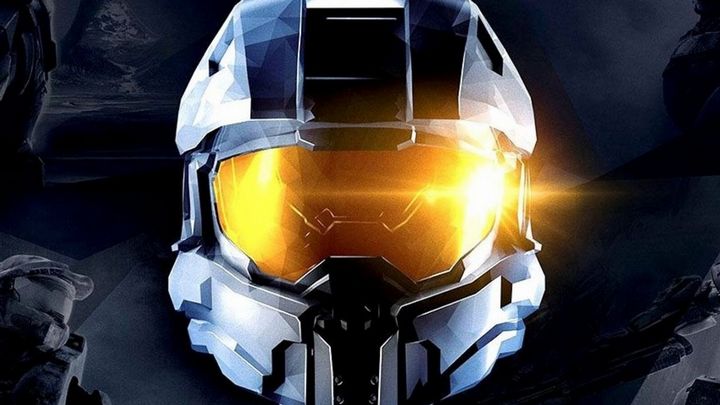 Not only Battlefield 2042 is getting quickly overtaken by older installments of the same series on Steam. This was also the fate of Halo Infinite, which recently sees fewer players than Halo: The Master Chief Collection.
Halo loses form
Neither of these positions made its way to the top 100 most popular games on Steam. A glance at the data from SteamDB and Steam Charts clearly shows the decline in form of the newer game with Master Chief.
It's fair to say, however, that Halo Infinite is still doing incomparably better than BF2042. Over the past thirty days, the game has averaged nearly 5.5 thousand concurrent users on Steam. In April, only a few times the number of players fell below 2.5 thousand.
Nonetheless, that's still quite a drop from the launch period, when Halo Infinite was played by an average of over a hundred thousand users at the same time. Since then, the game has been steadily losing players.
Halo: The Master Chief Collection performs worse in the perspective of the last thirty days. However, now this item enjoys similar or even greater popularity than the newer part of the Halo series. Remember that we are talking about a game released on PC in late 2019, almost two years before the debut of Halo Infinite (albeit the former game was not completed for another year).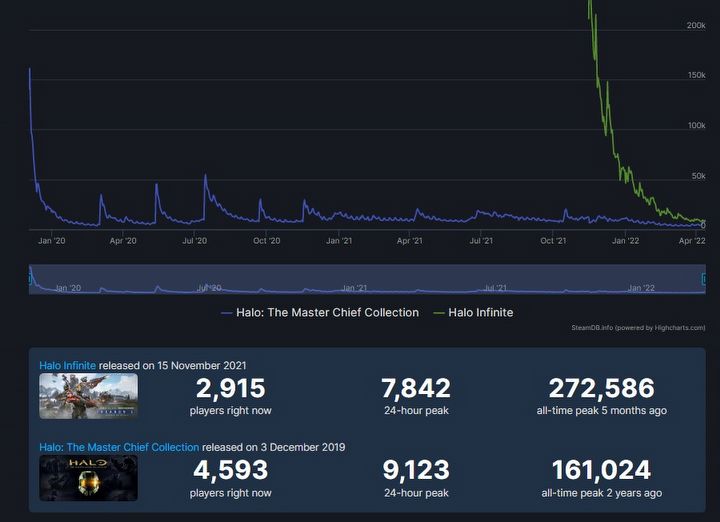 Comparison of the condition of Halo Infinite and Halo: The Master Chief Collection in recent days and months. Source: SteamDB.
Player perspective: Halo Infinite still lacks content
Of course, it can be pointed out that Master Chief collection is, after all, not one, but several games, meaning several single-player campaigns and multiplayer modes. Moreover, Halo is a series with a console pedigree and it is on these platforms that it enjoys the greatest popularity. We also can't forget about the presence of Halo Infinite in PC Game Pass service (although it must be emphasized that the multiplayer mode can be played on Steam for free).
Nevertheless, we're still dealing with a drastic drop in player numbers. This is accompanied by worsening ratings for Halo Infinite on Steam. In the last thirty days, users of the platform have given more than 3.2 thousand reviews and only half of them are positive.
Players continue to praise the gameplay, but complain about the shameful lack of content. Some add to this mentions of technical problems and poorly functioning matchmaking.
Season 2 aiming to save Halo Infinite
It should be reminded that a week ago 343 Industries shared the first details about the second season of Halo Infinite. It will bring with it, among other things, a richer season pass (also in the free version), more interesting challenges and new maps and game modes.
Perhaps this injection of new features (and probably a handful of fixes) will be enough to reignite interest in the game. However, we will have to wait to find out. Second season of Halo Infinite will begin on May 3. Moreover, it will lack the co-op mode.
More about the Halo universe: