News
video games
31 August 2019, 18:06
author: Konrad Serafinski
Homeworld 3 - Official Announcement and First Trailer
Gearbox Publishing and Blackbird Interactive have officially announced Homeworld 3. The game has not received a release date yet. We also do not know the target platforms. The fund-raiser for the game was launched.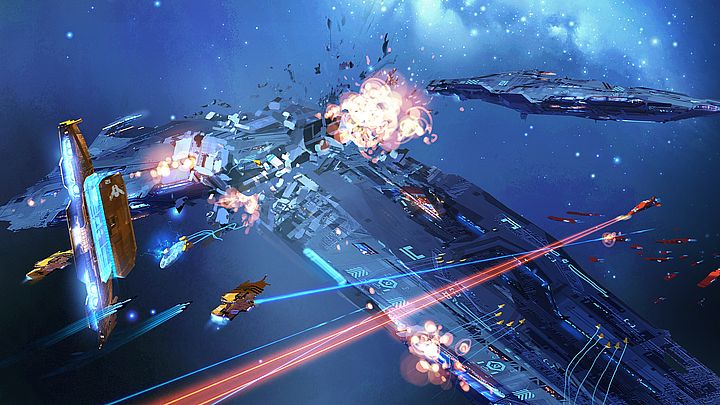 Space battles on a huge scale - that's what we need.
Lovers of strategy games have great reasons to be happy. As expected, Homeworld 3 was announced at Pax West 2019 in Washington, D.C. The game will be a continuation of the iconic RTS series from Relic Entertainment. This time, however, the title will be the responsibility of Blackbird Interactive, founded by Rob Cunningham - the devs of the original Homeworld. The company is well-known to fans of the franchise, because it has already developed Homeworld: Deserts of Kharak (prequel of previous installments) and Homeworld Remastered Collection, which includes refreshed versions of the first and second installment.
Unfortunately, despite the official announcement, we weren't given a specific release date of the game. We can only read that the devs aim for the fourth quarter of 2022. There's also another catch. Homeworld 3 has a publisher (Gearbox Publishing), and Blackbird Interactive is not a coincidence either. And yet, the game will be partly financed by the fans. The players can support devs through the Fig platform. Interestingly, the minimum limit to "reach the goal" of the collection was 1 dollar. Now, about a day after the start of the campaign, the devs have collected almost 230 thousand dollars.
The crowdfunding campaign is intended to allow long-time fans to participate in the process of creating the game (which is currently at the pre-production stage). Everyone who supports the title will be given access to information from inside the studio, as well as a chance to express their opinion on the game itself. And what can we expect from Homeworld 3? First of all, the return of the original Homeworld spirit. Paul Ruskay, the composer of the soundtrack to the first installment, will take care of the music. We are to learn more details in time.
We also do not know the target platforms. So far, no installment of the series has appeared on consoles. On the other hand, the devs would probably like to develop this market and reach new players, because the PC release is obvious. We can only wait for more information and believe that the title will be released as soon as possible.