News
video games
01 April 2022, 17:59
US Senators Have Concerns About Microsoft's Acquisition of Activision
U.S. senators are concerned about the planned acquisition of Activision Blizzard by Microsoft. Their concerns include the treatment of employees and the position of Bobby Kotick, who has also been involved in sexual harassment controversies.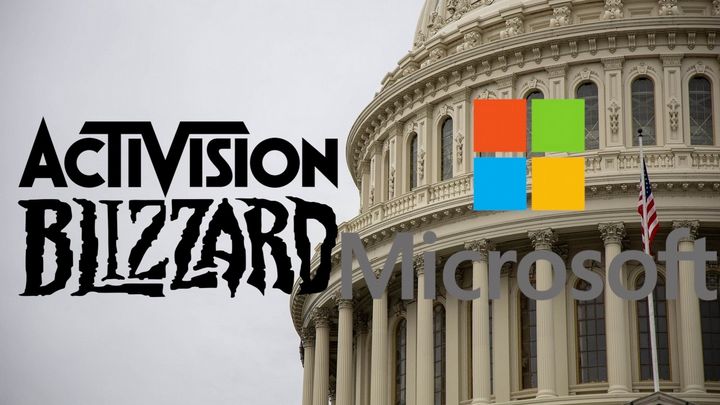 U.S. senators are concerned about the pending acquisition of Activision Blizzard by Microsoft and have expressed concerns about the matter. Four senators have sent a letter to the US Federal Trade Commission concerning the matter.
Letter to the Federal Trade Commission
In a letter seen by The Wall Street Journal Bernie Sanders, Elizabeth Warren, Cory Booker and Sheldon Whitehouse urge Lina Khan, chairman of the Commerce Committee, to evaluate the deal and its impact on the situation regarding allegations of harassment and abuse at Activision Blizzard.
"We are deeply concerned about consolidation in the technology industry and its impact on workers."
The politicians are also drawing attention to the CEO of the acquired company, Bobby Kotick, who, thanks to the terms of the deal, can afford to remain in his position until its expected finalization in 2023. He will also potentially receive severance package of a significant amount. Activision's CEO has been involved in countless controversies and is considered one of the most hated people in the gaming industry.
Bobby Kotick and Activision have a rich history full of controversy, which you can trace through our reporting:
"This lack of accountability, despite calls from shareholders, employees and the public to hold Kotick to account for the culture he has created, would be an unacceptable outcome of the proposed acquisition by Microsoft."
The deal for Microsoft's absorption of Activision Blizzard is for about $68.7 billion. The Federal Trade Commission is investigating whether the Redmond giant's move has a restrictive effect on competition.
Back at home
News has also reached us about Activision Blizzard employees returning to stationary offices. This was revealed on Twitter by Jason Schreier, the famous Bloomberg journalist. He reported on emails sent out by the company's administrator Brian Bulatao, in which he informed about the abolition of mandatory vaccinations for staff in the United States.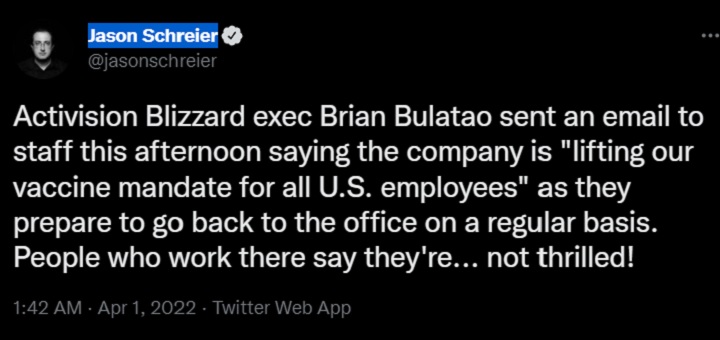 According to Schreier, people employed at Activision Blizzard are not thrilled with the news.