News
video games
17 July 2017, 16:59
Pre-order Need for Speed: Payback to get exclusive tire smoke colour
Is a car pack enough to entice you to pre-order Need for Speed: Payback? If not, perhaps exclusive tire smoke will.
Players visiting EB Games retailer have spotted the bonuses that will be added to Need for Speed: Payback pre-orders – especially one of them cought the attention of the community, evoking a wave of ridicule. OK, here it goes. If you pre-order the next installment of the popular racing games series you will be able to stand out from the crowd with… exclusive blue tire smoke. Yup, if that doesn't knock you down on your knees with the nagging desire to get the game now, I guess nothing will.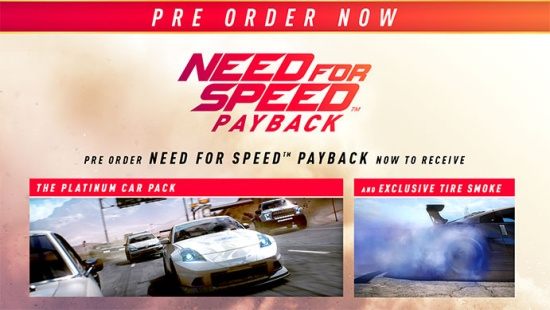 Need for Speed: Payback pre-order bonuses.
To give Electronic Arts due honor, that is not the only extra element prepared for those who decide to place a pre-order for the titile. Another one is the Platinum Car Pack DLC, which includes five hot rides: Nissan 350Z 2008, Chevrolet Camaro SS 1967, Dodge Charger R/T 1969, Ford F-150 Raptor 2016, and Volkswagen Golf GTI Clubsport 2016. The aforementioned exclusive smoke is actually part of the pack, and only those cars will feature the blue tire smoke.
To be perfectly honest, that information has been already revealed by EA some time ago, but no one seems to have paid any attention to that. Anyway, Need for Speed: Payback is launching on PC, Xbox One, and PlayStation 4 on November 10.