News
video games
18 July 2017, 11:27
Wolfenstein II: The New Colossus Is Partially Censored in Poland. How and Why?
The Polish version of Wolfenstein II: The New Colossus' official website is censored not to include swastikas. Find out why.
It's been over 70 years since the Nazi Party ceased to exist, but its official symbol – the swastika – still raises much controversy. Recently we've heard that Call of Duty: WWII won't have any swastikas in multiplayer, but there is another major World War II-related title inbound, namely Wolfenstein II: The New Colossus. This game's developers are a bit more daring than Sledgehammer, and are totally not afraid to wave the infamous black-red-white symbol around, but that is not going to be the case in all countries.
The law on the use of Third Reich's symobols is very strict in Germany, forbidding the use of anything Nazi-related anywhere outside "art or science, research or teaching". Interestingly, while films are excluded from the ban, video games are not. Thus, the German version of Wolfenstein II is going to be censored, just like any other game of the kind.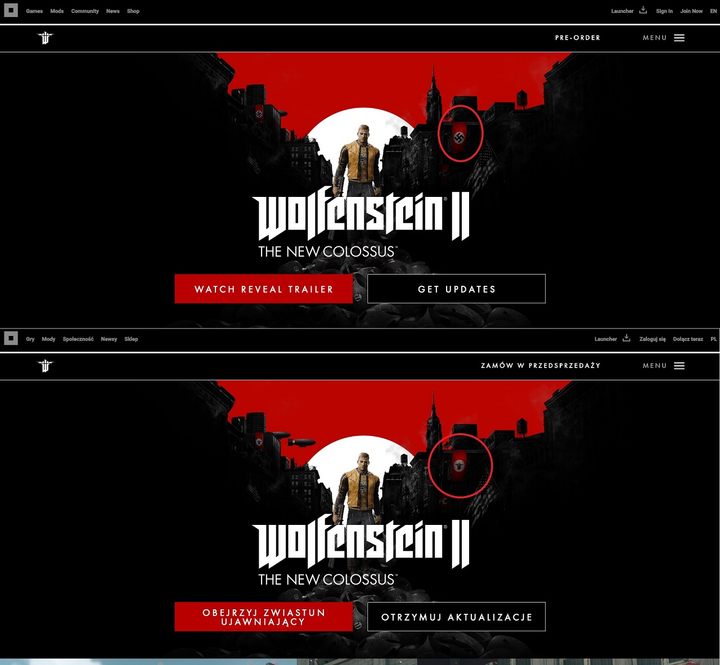 The official English vs. Polish version of Wolfenstein II's official website.
However, something similar unexpectedly happened to the Polish version of the game's official website – all swastikas from screenshots and graphics have been replaced by the Wolfenstein logo. The local distributor of Wolfenstein II: The New Colossus, Cenega, explains that the swastika is going to appear in Poland in the final version of the game, but Bethesda doesn't want to use it in promo materials, because the Polish law is vague on the matter.
Wolfenstein: The New Order was the first Wolfenstein game officially released in Germany. However, that game was censored too, obviously. Apart from removing all swastikas, all references to Nazism were replaced by "The Regime". To prevent German players from getting the uncensored version of the game, the international release was geo-locked on PC.
Wolfenstein II: The New Colossus is going to launch on October 27, 2017 for PC, Xbox One and PlayStation 4.