Galactic Civilizations III Expansions & DLCs
Game Expansions and DLCs available for Galactic Civilizations III Video Game.
Game Expansions for Galactic Civilizations III
Galactic Civilizations III: Retribution
Strategy 21 February 2019
A major expansion to the 4X space strategy Galactic Civilizations III. Production adds to the game two new civilizations and a number of new mechanics, such as hyperbrams or artifacts. The authors of the Galactic Civilizations III are responsible for creating the DLC, i.e. Stardock Corporation studio.

Galactic Civilizations III: Intrigue
Strategy 11 April 2018
Intrigue is the third large expansion for the turn-based space strategy game Galactic Civilizations III. The add-on expands the political layer of the game and offers the option to form different types of governments, add a galactic market with independent traders, and introduces multiple new technologies.
Galactic Civilizations III: Crusade
Strategy 04 May 2017
Galactic Civilizations III: Crusade is an expansion to Galactic Civilizations, a turn-based 4X strategy game developed by Stardock. The expansion offers a new campaign, the titular Crusade. We learn that the human empire is no longer interested in diplomatic actions towards the alien races and decides to use force to mark their presence in the galaxy. Crusade introduces three new playable factions: the Terran Resistance, the Onyx Hive that dwells in the asteroids, and highly advanced cybernetic amoebas, the Slyne. The players can also create their own civilizations, including its leader, ideology, and abilities. We can also design our ships and write our history and dialogue options. Galactic Civilizations III: Crusade also introduces the citizens system (player can give their citizens specific roles) and the espionage mechanics. Additionally, the expansion offers an elaborate planetary invasion system, where we have to train our troops and personally deploy them on specific areas of given planets.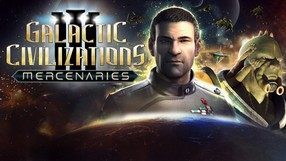 Galactic Civilizations III: Mercenaries
Strategy 18 February 2016
The official expansion to 2015's Galactic Civilization III, the third entry in the turn-based 4X strategy game series from Stardock studio. Mercenaries continues the story of a great galactic war between humans and the merciless Drengin Empire. When, due to the prolonged conflict military, the resources of both factions begin to dwindle, they decide to bolster their ranks by hiring freelancers. During the campaign, we play as the Torian, a previously unavailable alien faction that lives underwater and is trying trying to drive back the Empire from their territory. In the sandbox mode we can also take the control of another new race – Arcean, an ancient civilization of honorable warriors. Other noteworthy novelties include many new types of ships and additional parts to already present units, as well as the so called Galactic Bazaar, where dozens of mercenaries with various skills offer their services.
DLCs for Galactic Civilizations III
PC
Worlds in Crisis
DLC 12 May 2020
PC
Villains of Star Control: Origins
DLC 27 August 2019
PC
Heroes of Star Control: Origins
DLC 12 November 2018
PC
Mech Parts Kit
DLC 24 October 2017
PC
Altarian Prophecy
DLC 23 August 2016
PC
Lost Treasures
DLC 27 July 2016
PC
Rise of the Terrans
DLC 15 June 2016
PC
Builders Kit
DLC 02 June 2016
PC
Precursor Worlds
DLC 09 December 2015
PC
Revenge of the Snathi
DLC 10 September 2015
PC
Mega Events
DLC 11 August 2015
PC
Map Pack
DLC 09 July 2015