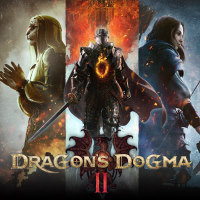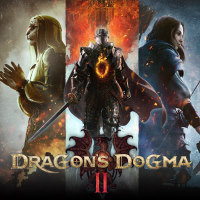 Dragon's Dogma II
Dragon's Dogma 2
An open-world action RPG developed by Capcom. Dragon's Dogma II distinguishes itself from other games with its spectacular boss fights and the Pawn system - creating companions which we can then rent out to other players.
RPG | TPP | fantasy | sandbox | action RPG | Find Your Next Game
Dragon's Dogma II is the second installment in a series of action RPGs originating from 2012. Similarly to the first installment, it was developed by Capcom, its director being Hideaki Itsuno.
Plot
Dragon's Dogma II is set in a fantasy universe. We play as an Arisen, who's lost their heart to a dragon - the symbol of the world's destruction. The protagonist must defeat the winged beast and face many other challenges. They're not alone during their journey, being accompanied by Pawns - mysterious otherworldly beings providing them support.
Mechanics
Dragon's Dogma II makes use of the third-person perspective (TPP). The game is set in a vast open world inspired by medieval Europe, featuring beautiful landscapes, cities, villages and mighty fortresses. While traversing it we must finish quests; aside from story missions there are also many side activities. As we progress through the game we develop our character and acquire better gear, gradually facing greater challenges.
Dynamic combat is a large part of the game. The player must keep moving, avoid enemy attacks, counter and make good use of their character's combat skills. Depending on how we build our hero, we can specialize in swordplay, archery or spellcasting. We'll face both regular opponents who shouldn't give us much trouble, as well as powerful foes like griffins and giants, whom we dispatch by climbing their bodies and attacking their weak spots.
We're not alone on the battlefield, as up to three companions can accompany us. Called Pawns, they have unique abilities and are controlled by an advanced AI which learns various behaviors across different encounters. We can also rent them out to other players (to help them gain more experience) and recruit Pawns trained by other players as well.
Game modes
Dragon's Dogma II only supports singleplayer. Due to the realistic behavior of our teammates, however, it's easy to mistake for a co-op game.
Technical aspects
Dragon's Dogma II features high-quality visuals. The game runs on the RE Engine, like Resident Evil VII: Biohazard and Resident Evil: Village, making good use of its capabilities. The detailed world, richly animated characters and enemies may be especially appealing.
Last updated on 02 June 2023
Game mode: single player
Age restrictions Dragon's Dogma II: 18+