Warhammer 40,000: Dawn of War Video Game Series
Video Games Encyclopedia by Gamepressure.com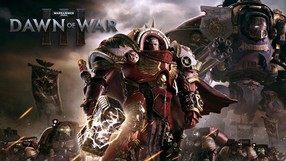 Warhammer 40,000: Dawn of War III
Strategy 27 April 2017
Developed by Relic Entertainment, the third installment of the real-time strategy set in a dark science fiction world. The action of Warhammer 40,000: Dawn of War III once again takes us to the popular universe created by Games Workshop. During gameplay you can lead one of the three available races: Space Marines, Eldars, and Orks. Each of them has unique heroes, units, buildings, and abilities. Mechanically, the title combines the best solutions from the previous parts of the franchise and concentrates on spectacular battles waged on vast maps with hundreds of units. The game features RPG elements, such as customization of units and heroes that can be provided with special equipment and abilities obtained with the increase of experience. The title utilizes a modern graphics engine which offers attractive, 3D visuals and large-scale environment destruction.

Warhammer 40,000: Dawn of War II
Strategy 19 February 2009
A sequel to the popular real-time strategy game by Relic Entertainment, set in the cult Warhammer 40,000 universe, where over a dozen feuding factions fight a bloody war. In the story campaign, we can assume control of the armies of four sides of the conflict: humans (Space Marines), Orks, the Eldar, and the Tyranids. Contrary to its predecessor, in Dawn of War II we have a much larger freedom in terms of playing and can determine the order of conquest. Moreover, every mission ends with a fight against a so-called boss who is more resistant to damage and has more powerful attacks at his disposal. In the title, we command units that usually consist of only several troops, which serves to strengthen the tactical side of the gameplay and the way players bond with their subordinates. As we progress, the experience level of our armies also rise, thanks to which they can perform increasingly better on the battlefield.

Warhammer 40,000: Dawn of War
Strategy 20 September 2004
A real-time strategy which takes place in the Warhammer 40,000 universe. The game was released as a result of cooperation between the publisher THQ and Relic Entertainment, the studio known for Homeworld, among other games. The story of Dawn of War focuses on one of the many conflicts in the world of Warhammer. It focuses on Gabriel Angelos – the leader of Blood Ravens chapter of the Space Marines - who tries to stop an Ork invasion on his planet. Similarly as in the majority of real-time strategies, the essence of the game is leading troops during combat. Thanks to the unique setting and various futuristic weapons, the battles are spectacular and very brutal. The game lacks the typical resource gathering element, usually used for improving the base. Instead, the resource system was based on conquering and controlling key locations. The way how units look is worth mentioning – they are based on authentic figurines created by Games Workshop.