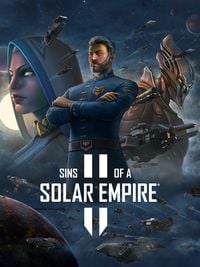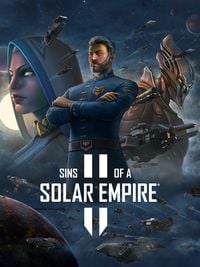 Sins of a Solar Empire II
PC
Sins of a Solar Empire II is a space RTS with 4X strategy elements. The player controls huge star armadas and with their help fights galactic battles and conquers planets. He also has to manage his empire, taking care of obtaining resources and improving technology.
Strategy | science fiction | RTS | 4 x | Space | Epic Store exclusive | Find Your Next Game
Sins of a Solar Empire II

Release Date PC

2023
developer: Ironclad Games publisher: Stardock Corporation Official website

game language: English
Sins of a Solar Empire II is a space strategy with elements of a 4X strategy and a war RTS. This is a sequel to the popular space strategy game from 2008. Both parts were developed by Ironclad Games studio.
Plot
The game is set in a new galaxy, but three races familiar to fans return (TEC, Advent and Vasar) and each will be available in loyalist and rebel variants, as in Sins of a Solar Empire: Rebellion.
Game mechanics
The game is built on the foundations of the first part. So we get a real-time strategy, in which events are played out on a large scale. Players command space armadas, fight star battles and take over planets. They use the conquered worlds to collect raw materials, improve technology and construct new units.
In Sins of a Solar Empire II, all factions have unique units, technologies and mechanics. As a result, each requires the use of different tactics, as well as modifying your strategy in terms of who you are up against.
Compared to the first part, the 4X elements of managing a galactic empire have been heavily expanded. The game world is more dynamic and realistic. Systems now have stars around which planets orbit, often having their own moons. The fact that these objects are movable strongly changes the gameplay and forces careful planning during conquests, allowing you to take advantage of changing space routes to gain an advantage over your opponent.
The heart of the gameplay, however, remained tactical star skirmishes. Technological advances have meant that - unlike the first installment - the game is able to separately simulate each deck gun and rocket fired. Not only does this look better than in the original, but it opens up new possibilities in battles - this makes it possible, for example, to cover the firing line of a specific cannon with a large ship to protect a more fragile craft.
In general, ship positioning plays a much greater role in the sequel. The simple system whereby given units are strong against one type of enemy and weak against another has also been abandoned. Now this balance is determined by mounted systems and armor.
Game modes
The game offers free play against the artificial intelligence, as well as multiplayer skirmishes with other players. Ten sides can take part in the game, and we can freely set how many of them will be controlled by humans and how many by AI.
The developers have not provided for a campaign instead.
Technical aspects
Sins of a Solar Empire II features attractive three-dimensional graphics. Its main advantage is the large scale - during the game the player can command fleets consisting of thousands of units.
Game mode: single / multiplayer Multiplayer mode: Internet Player counter: 1-10
Age restrictions Sins of a Solar Empire II: Good for all ages.
Sins of a Solar Empire II System requirements
Minimum:
Intel Core i5-5775C 3.1 GHz / AMD Ryzen 5 2600 3.4 GHz
8 GB RAM
graphic card 2 GB GeForce GTX 950 / Radeon RX 460 or better
20 GB HDD
Windows 10/11 64-bit
Recommended:
Intel Core i7-9700K 3.6 GHz / AMD Ryzen 5 3600 3.6 GHz
16 GB RAM
graphic card 6 GB GeForce GTX 1060 / 8 GB Radeon RX 580 or better
20 GB HDD
Windows 11 64-bit