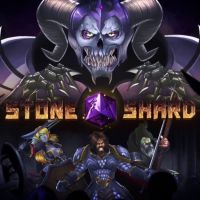 game language: English
game release date for PC:
2022
Stoneshard is a turn-based roguelike with an open, procedurally generated world, which is observed from an isometric view. The game is the responsibility of the Ink Stains Games studio. After creating the warmly welcomed shooter 12 is better than 6, the developers' eyesight fell on the RPG genre. Stoneshard is inspired by titles like Darkest Dungeon, Diablo or The Banner Saga.
Plot
Aldor is a land devasteted by wars, plagues and dark cults, a land that has become a place of dispute for various powers that have ravaged every heap of the earth in search of the remains of a powerful artifact. The player takes on the role of a mercenary who, at the head of the caravan, travels through these inhospitable areas to do the will of the mysterious employer.
Mechanics
One of the most important elements of any RPG is character development; in the production of Ink Stains Games it is unrestricted. Stoneshard gives us the opportunity to freely choose our skills and equipment. There are no character classes, and items do not require a specific attribute value to use them. Nothing stands in the way of traveling the world as an armoured mage or a thief using spells. However, there are some limitations of a logical nature - for example, a figure dressed in a plate armour will be easier to detect than a leather one, and the spells of a magician holding a shield will lose strength.
Our hero is described by a series of statistics that have a direct influence on his actions. The game distinguishes 5 main attributes: strength, dexterity, perception, intellect and willpower. We improve them by raising the level of the character and putting on the right items. Attributes affect a number of more precise features grouped in 5 categories: combat, magic, survival, others and resistance, which describe in detail the strengths and weaknesses of our character.
What distinguishes Stoneshard from most other roguelikes or isometric RPGs is the fact that the game introduced survival mechanics, slightly similar in assumptions to those known from the Darkest Dungeon. While exploring we must not only watch out for our opponents, but with each step we also become more and more hungry and thirsty. Neglecting these needs will result in a drop in statistics. The survival elements are connected not only with the needs of our character, but also with the wounds suffered by him. Our hero can suffer various types of injuries, and each wound is treated differently - a broken arm is stabilized in the rail, while bleeding is stopped with a bandage, and the growing pain will be helped by a potion or alcohol. An important aspect is also the mood of our hero, who, like in the Darkest Dungeon can have positive and negative effects.
To survive in the hostile world of Stoneshard, we'll need a range of items from weapons to medication. It should be noted, however, that every item of equipment is used up, losing bonuses to the statistics. Repair kits or spare parts solve this problem. Our character, however, is not a strongman. There is a dependency in the equipment known from the Diablo series: items have a size and the equipment has a limited capacity, so it is not worthwhile to collect everything.
Fighting in Stoneshard is turn-based. Each of our actions is one turn, no matter if we decide to open the door, change the weapon, collect an object or go through a step. But this becomes apparent only when enemies appear on our horizon who move alternately with our own. We kill our opponents in different ways. We have at our disposal witchcraft, ranged weapons and the weapon for close combat. We and our opponents have special skills at our disposal that will help us both passively and offensively.
During the game we have the opportunity to join our caravan with companions who will support us. However, they have a free will and can even leave if they do not like our actions.
Stoneshard does not give us the possibility to save game freely. We can only do it in the inns. Otherwise, we're on autosave. There is also a permadeath game mode, which in case of death permanently ends the adventure of our hero.
Game modes
Stoneshard is a single player game.
Other information
Stoneshard has an atmospheric visual setting with a style reminiscent of the production of the 1990s.
As in the case of 12 is better than 6, the developers were looking for help in finalizing Stoneshard on Kickstarter, where they managed to raise more than three times the assumed $30,000 (they raised more than $100,000).
A free demo version of the game is available, which is in the form of a prologue and shows a slice of the mechanic from the full version of the title along with several opponents.

Expectations: 8.4 / 10 calculated out of 48 players' votes.
System requirements
PC / Windows
Minimum: Intel Core 2 Duo E6320 1.86 GHz, 2 GB RAM, graphic card 512 MB GeForce 7600 or better, 500 MB HDD, Windows 7/8/10