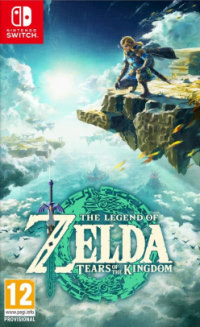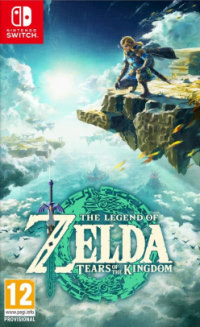 The Legend of Zelda: Tears of the Kingdom
Switch
TotK, Breath of the Wild 2
The Legend of Zelda: Tears of the Kingdom is a sequel to The Legend of Zelda: Breath of the Wild. Hyrule is once again in great danger, with Link being its only hope, his quest leading him onto floating islands and into dark underground depths.
Action | TPP | fantasy | action adventure | Nintendo exclusive titles | Find Your Next Game
The Legend of Zelda: Tears of the Kingdom

Release Date Switch

12May2023
developer: Nintendo publisher: Nintendo Official website

game language: English
The Legend of Zelda: Tears of the Kingdom is an open-world action adventure game and a continuation of Link and Zelda's adventures. The game is part of a popular series developed by Nintendo for over 30 years at the time of writing. It's a direct sequel to the bestselling The Legend of Zelda: Breath of the Wild, implementing many new features that had to be cut from its predecessor due to lack of time. Both games feature similar gameplay and artstyle.
Plot
The Kingdom of Hyrule once again faces danger when Princess Zelda and Link witness the awakening of Demon King Ganondorf, imprisoned centuries ago beneath Hyrule Castle. The mighty villain breaks free and changes Hyrule beyond recognition - his magic lifts the castle high into the air, the earth cracks, revealing chasms leading to a dark underground land, while flying islands appear in the sky, filled with relics of a long-forgotten, technologically advanced Zonai civilization. As if that wasn't enough, during their brief confrontation with Ganondorf, Link loses the Master Sword and an arm, while Zelda disappears.
Mechanics
The Legend of Zelda: Tears of the Kingdom is a third-person action game with survival elements, largely focused on exploration and puzzle-solving. The player faces numerous monsters, often requiring specific tactics, blocking, parrying or waiting for the perfect moment to strike. We must also take care of our equipment, change outfits depending on the weather, brew potions and cook meals which can buff our character.
The game features returning mechanics from Breath of the Wild and some entirely new skills. Fuse allows Link to fuse objects to his weapons and shields, changing their reach, damage and other traits. Recall rewinds objects in time, coming in handy in combat and while solving puzzles.
The game's world has near tripled in size due to the introduction of the Depths and the sky islands. Movement-wise, Link's no longer limited to horses or a paraglider - with his new Ultrahand ability he can connect different objects together, engineering bridges, vehicles and automated combat machines. Newly introduced Zonai devices, such as Fans and Flame Emitters, come in handy in combat and while exploring; we're only limited by our own creativity, a rechargable battery and an impressive physics engine.
Amiibo
The game supports Nintendo-produced Amiibo figurines - The Legend of Zelda: Tears of the Kingdom released at the same time as its dedicated Link amiibo. In addition to being a collector's item, it also provides some in-game bonuses such as crafting materials and a unique paraglider skin.
Last updated on 06 June 2023
Game mode: single player
Media type: 18 GB
User score: 7 / 10 based on 178 votes.
Pre-release expectations: 8.1 / 10 based on 248 votes.
PEGI rating The Legend of Zelda: Tears of the Kingdom