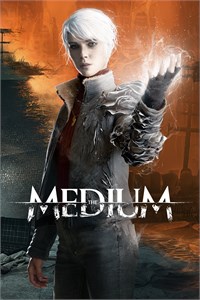 The Medium is a horror in which we play the role of a woman able to see the world of spirits (the medium). The protagonist is trying to solve the mystery of the death of a child. The game was developed by the Krakow-based Bloober Team studio (creators of Observer, Blair Witch and Layers of Fear series).
Plot
The Medium takes place in the 1990s in Krakow. The main character is Marianne, the medium. The heroine experiences visions showing death of an innocent child and decides to solve this mystery. To do this, he has to go to the abandoned Hotel Niwa, which was once in the hands of the communists.
Mechanics
The Medium is quite a classic horror, in which we observe the action from the third person's perspective ( TPP). The gameplay is about exploring locations, solving puzzles and dealing with various types of dangers (especially the monster known as The Maw).
The game uses an interesting mechanics of moving between two worlds - thanks to her supernatural skills, the protagonist is able to perceive and influence the ghost world. This ability is often the key to finding solutions to puzzles and opening the passages to other places. Marianne also has several other extraordinary abilities, such as leaving her body (this allows her to get into inaccessible locations), surrounding herself with shields that make it difficult for the spirits to act, or sending a wave of energy that threatens them.
Game modes
In The Medium we can only play alone. The core of the game is a feature campaign.
Technical aspects
The Medium has very attractive, three-dimensional graphics. Both locations and characters are really detailed and interestingly conceived. The lighting system, which creates a heavy, dark atmosphere, also makes a great impression. It is worth noting that the projects are inspired by the surrealist work of the famous Polish painter - Zdzislaw Beksinski. The soundtrack of this game, in turn, is the responsibility of Akira Yamaoka (known for his work on the Silent Hill series) and Arkadiusz Reikowski (the creator of music for the previous games of the Bloober Team studio).
System requirements
Minimum:
Intel Core i5-6600 3.3 GHz / AMD Ryzen 5 2500X 3.6 GHz
8 GB RAM
graphic card 6 GB GeForce GTX 1060 / 4 GB Radeon R9 390X or better
50 GB HDD
Windows 10 64-bit
Recommended:
Intel Core i5-9600 3.1 GHz / AMD Ryzen 7 3700X 3.7 GHz
16 GB RAM
graphic card 6 GB GeForce GTX 1660 Super / Radeon RX 5600 XT or better
50 GB SSD
Windows 10 64-bit
Ultra:
(4K / ray tracing) Intel Core i7-9700 3.0 GHz / AMD Ryzen 7 3700X 3.7 GHz
16 GB RAM
graphic card 10 GB GeForce RTX 3080 / 16 GB Radeon RX 6800 XT or better
50 GB SSD
Windows 10 64-bit