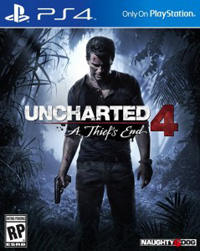 Game mode: single / multiplayer
Multiplayer mode: Internet, players: 1-10

game language: English
game release date for PS4:
10May2016
Uncharted 4: A Thief's End is the fourth installment in the Uncharted series and the first one (apart from the Uncharted: The Nathan Drake Collection compilation) for PlayStation 4. Just like its predecessors, it was developed by Naughty Dog, a studio known for such bestsellers as The Last of Us, Crash Bandicoot or Jak and Daxter: The Precursor's Legacy.
Story
In Uncharted 4: A Thief's End, just like in the previous games in the series, we assume the role of an adventurer and treasure hunter, Nathan Drake, who tends to get into trouble in various exotic parts of the globe. This time around, our task is to find the riches of a pirate named Henry Avery. This goal is important because the life of Sam (Nathan's brother) depends on the result. The story takes place three years after the events of Uncharted 3: Drake's Deception. The protagonist quit the swashbuckling lifestyle and leads a quiet life with Elena. However, the idyll is interrupted by his brother, whom Nathan thought dead. During the adventure, we will meet old friends (Sully, among others) and cross paths with new competition: another couple of treasure hunters — Rafe (Nathan's opposite) and Nadine (owner of a private military organization in South Africa) — who are going after the same thing.
Gameplay
Uncharted 4: A Thief's End takes place in various parts of the globe, including Libertalia, a pirate colony on Madagascar. We will also visit a busy city and snowy terrains, among other places. The player assumes the role of Nathan, who is constantly accompanied by Sam. The latter plays a similar role to Ellie from The Last of Us, although he is stronger and much more experienced, so he behaves differently. The gameplay does not deviate significantly from the previous installments of the series, and still offers a combination of exploration, combat and puzzle solving. However, the developers did make it less linear and implemented an enhanced artificial intelligence as well as additional items (such as a grappling hook) used during both fights and puzzles. The gameplay is complemented by the unique humor for which the Uncharted series is known.
Game modes
Uncharted 4: A Thief's End offers both single and multiplayer modes. The solo campaign takes from several to over a dozen hours to complete. After we do it, we can dive into the world of online play which resembles that of the previous games of the series. We compete in various modes in locations that allow us to hide behind covers, climb walls and so on. Moreover, the players can use different magical powers, for example: Wrath of El Dorado from Uncharted, Cintamani Stone from Uncharted 2 or Spirit of the Djinn from Uncharted 3, that let us, for instance, move faster.
Furthermore, we can also summon helpers, such as a medic that increases our health. These characters are not immortal though, and can be eliminated if shot a sufficient number of times.
Multiplayer is complemented by 8 completely new locations prepared for the launch of Uncharted 4.
Technical aspects
Uncharted 4: A Thief's End is one of the prettiest games for PlayStation 4. The game offers detailed environments, great character animation and lots of special effects. It runs at 30 frames per second in the screen resolution of 1080p.
Unfortunately, that is not the case of multiplayer. The developers wanted to achieve the smooth 60 FPS for online play which resulted in reduced screen resolution (900p).
Uncharted 4: A Thief's End utilizes micropayments which allow for acquiring some elements, e.g. selected weapons, faster than it would normally take. However, all items can be bought for the in-game currency.

Game score 9.085 / 10 calculated out of 4458 players' votes.
Expectations before the premiere: 9.2 / 10 calculated out of 1934 players' votes.
PEGI Rating