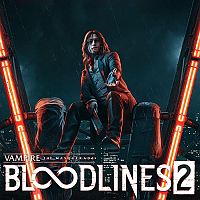 Vampire: The Masquerade - Bloodlines 2 is the first person RPG, set in the World of Darkness, maintained in the urban fantasy convention. The production is a continuation of the cult title from 2004 and offers a very similar approach to gameplay. Hardsuit Labs studio (known from Blacklight: Retribution) is responsible for the creation of this title, but some authors of the first part (e.g. author of the script Brian Mitsoda) and well-known developer Chris Avellone also participate in the work. The publisher is Paradox Interactive.
Plot
The player takes on the role of a newly created vampire who is entangled in a ruthless conflict over power in the city of Seattle. Survival requires alliances with all sorts of mighty bloodthirsty people and exposing the conspiracy underlying the war between the mighty undead factions. In the game we also meet some of the heroes known from the previous installment.
Mechanics
Vampire: The Masquerade - Bloodlines 2 is an RPG, in which we observe the action from the first person perspective (in some situations it is possible to see your character). Exploring the dangerous streets and buildings of Seattle, we carry out quests, collect items and establish relationships with various characters - including, above all, representatives of the vampire community.
It is worth noting that allies must be chosen carefully, because everyone has hidden motives, and vampire intrigues are characterized by exceptional ruthlessness. There are several different factions in the game, characterized by their own history and goals. It is up to us on which side of the conflict we will stand, and the elections we have taken will not be easily forgotten.
Production offers a dynamic combat system, in which disciplines play an important role - supernormal abilities, the use of which requires the consumption of blood. As the game progresses, the player can develop the skills and attributes of their character, making it gradually more powerful.
While playing, we are also forced to hunt in order to provide ourselves with life-giving blood. However, one has to be very careful - respect the Masquerade law (forcing the undead to hide from people) and make sure that hunger does not cause us to be too cruel - the borderline between man and the ruthless beast is very thin in the case of the vampire.
Game modes
In Vampire: The Masquerade - Bloodlines 2 we can only play alone.
Technical aspects
Vampire: The Masquerade - Bloodlines 2 has an attractive three-dimensional graphic design. The PC version of the game supports ray tracing and DLSS technologies; it also supports fashion.