Vampire The Masquerade Video Game Series
Video Games Encyclopedia by Gamepressure.com
Vampire: The Masquerade - Bloodlines 2
RPG 2020
The first-person RPG game is a continuation of the cult-classic title from 2004. Vampire: The Masquerade - Bloodlines 2 is set in the universe of an urban fantasy world full of darkness. The game was developed by Hardsuit Labs, supported by some authors of the original, as well as Chris Avellone.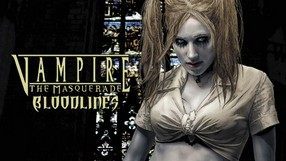 Vampire: The Masquerade - Bloodlines
RPG 16 November 2004
The second virtual adaptation of the classic RPG system known as Vampire: The Masquerade. It is a third-person action RPG developed by Troika Games - though not the creators of the first adaptation, they were a team popular mainly for the well-received Arcanum: Of Steamwork and Magick Obscura. VTM: Bloodlines is set in an alternative version of the modern Los Angeles, where seven vampire clans fight each other constantly. The protagonist tries to become an important figure in one such community, making use of unique abilities, such as invisibility, superhuman speed or mind control. As the main character gains experience, these abilities can be additionally developed. The player explores the virtual environment, talks to NPCs and fights enemies. In combat, the player makes use of up to twelve vampiric abilities and a wide variety of conventional weapons. The high-quality visuals were delivered thanks to the Source engine, a technology created by Valve for the purpose of running Half-Life 2.

Vampire: The Masquerade - Redemption
RPG 07 June 2000
An original, virtual equivalent to a popular tabletop RPG known as Vampire: The Masquerade. The plot is based on the concept of two storylines separated by a period of eight centuries. The player assumes the role of a crusader by the name of Cristof Romuald, who falls in love with Anezka - a nun who has taken care of him. When the woman gets kidnapped, the protagonist discovers that he is only a pawn in an everlasting war between vampire families. Bitten by one such being, the knight struggles to find the beloved woman and save his own soul from eternal damnation. In terms of the mechanics, the game is significantly different from its tabletop predecessor, focusing on fighting with different weapons and using vampire magic - it was only a marginal part of the original Vampire: The Masquerade. On his quest, Cristof meets a variety of NPCs who can join him. Because of the specifics of the genre, each of them is described by a set of statistics, which can be developed when experience is gained.