News
gramynawynos.pl
04 July 2022, 19:22
Players Cry, But Pay; Diablo Immortal Earns Millions of Dollars
Diablo Immortal is drowning in a sea of criticism, but also money. After a month, the game is still making $1 million a day for Blizzard Entertainment.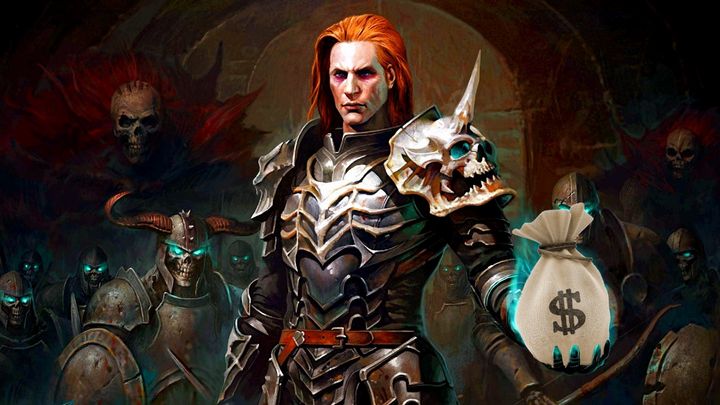 One month after release Diablo Immortal continues to capture the attention of gamers. Unfortunately, not because of its merits, but the widely criticized monetization. Nevertheless, the growing controversy has not affected the game's earnings. According to data collected by AppMagic (via MobileGamer.biz) the mobile Diablo earned about $49 million for Blizzard.
Diablo Immortal brings tons of money
In mid-June, AppMagic reported that the game generated $24 million in revenue (on mobile platforms only), so the game has since doubled that amount. Diablo Immortal is still earns more than $1 million each day, despite the fact that the title is being downloaded less and less frequently.
After reaching 8.5 million installations on mobile devices in two weeks, only after a month the game managed to break the barrier of 10 million downloads. You can compare the stats in the charts provided by AppMagic, which we have posted below.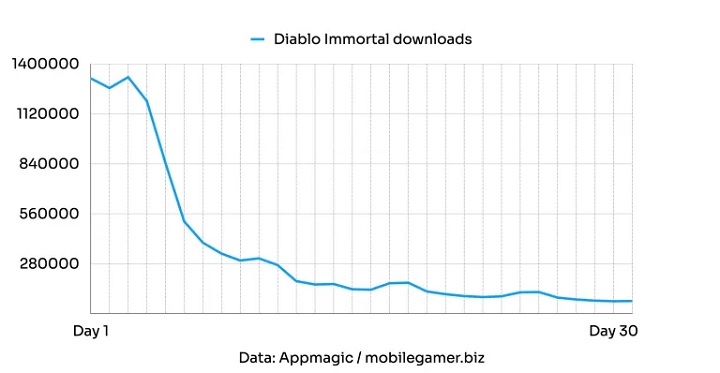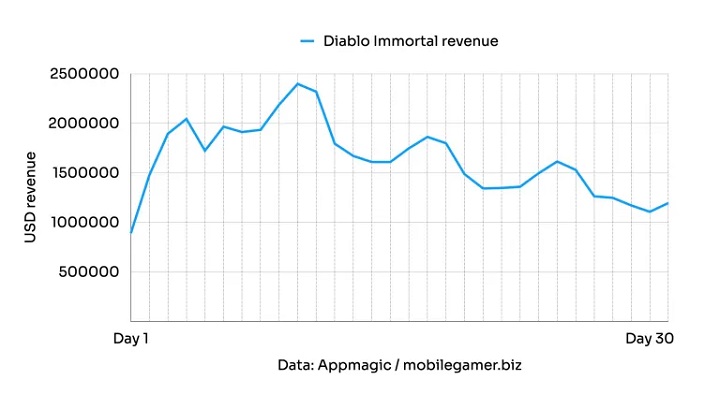 Source: AppMagic via MobileGamer.biz
Apex Legends Mobile: more popular, but less profitable
For context, it is worth citing the results of another F2P game, which by no means brought shame to its creators. We are talking about Apex Legends Mobile, which was downloaded some 21 million times a month after its May debut.
Nevertheless, more than double the popularity of Respawn Entertainment's work compared to Diablo Immortal has not translated into higher earnings. AppMagic data shows that the mobile Apex Legends earned just under $11.6 million for the month (via MobileGamer.biz).
Microtransactions pay off. Again
Such high revenue generated by Diablo Immortal certainly pleases Blizzard Entertainment, but for the gamers it must be a bitter pill to swallow.
From the very launch, Internet users have criticized the title's business model, which does not so much promote as simply force spending money in the in-game store. And in no small amounts. Fans have violently let their dissatisfaction be known, but apparently it's once again a protest by a loud minority (or a rich minority, looking at Diablo Immortal's earnings).