News
video games
24 April 2023, 15:43
This Mention of GTA 6 Excited Fans of the Gangster Series [UPDATE]
An inconspicuous tweet published by an American developer has sparked a wave of speculation among fans about the highly anticipated Grand Theft Auto VI.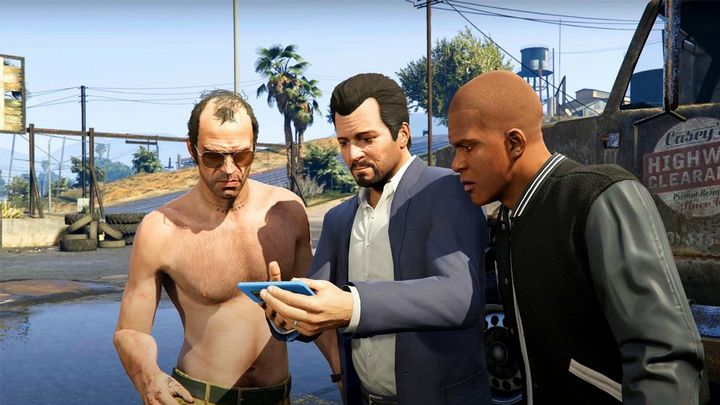 There are new rumors, proclaiming that Take-Two will make an official announcement of GTA 6 during an investor meeting scheduled for May 17. In addition, in March, well-known tipster Tez2, a regular on the subject of Rockstar Games' title, reported that further details about the game will be provided on the occasion of a big summer update for GTA Online (probably in September). However, this news should be approached with caution. There is nothing left to do but wait for developments.
As we move closer to the yet unannounced release date of Grand Theft Auto VI we are bombarded with mysterious information, leaks and all sorts of theories about the highly anticipated title. The latest batch of news comes from someone who has likely seen the game or even played it.
An American content creator and gaming journalist, Gerard "HipHopGamer" Williams, posted a photo on his Twitter profile in which he is standing next to Strauss Zelnick, CEO of Take-Two Interactive, the company that owns Rockstar Games, creator of the GTA series.
In the tweet the journalist points out that expectations for the game are high and stresses that Grand Theft Auto VI will be something unforgettable.
These few words were enough to form a heated up discussion under the post about the meeting of the two men. Readers analyzing the message came to the conclusion that apparently HipHopGamer got acquainted with the work of Rockstar Games, but the non-disclosure agreement (NDA) does not allow him to reveal more details. Interestingly, some people believe that the tweet itself may have already violated the NDA.
Nevertheless, fans are puzzled by the very meeting between Williams and Zelnick. A theory has emerged that the journalist may have been invited to work as a host of one of the game's radio stations, as he has the relevant experience and a sizable audience in both the gaming and music worlds.
Regardless of whether HipHopGamer had access to GTA VI, or not, the publication of the news certainly heated up the already sizzling atmosphere of anticipation for the game.