News
video games
04 June 2019, 23:33
author: Christian Pieniazek
Jumanji: The Video Game Announced
In November, Jumanji: The Video Game, an action adventure game adapted from the 2017 film, will go to the stores. The title will enable us to play solo or in the company of up to three players (also on in split-screen mode).
Bandai Namco Entertainment and Outright Games announced Jumanji: The Video Game, an action adventure game developed by the British team at Funsolve. The title will debut on November 15, 2019 and will be available on PC, PlayStation 4, Xbox One and Nintendo Switch.
Jumanji: The Video Game will feature the characters known from the film Jumanji: Welcome to the Jungle - Dr. Bravestone, Ruby, Moose and Professor Oberon. The action will be observed from the third-person perspective, and during the game, we will visit beautiful, but also dangerous locations - both numerous traps and enemies will be a threat, which will have to be dealt with in order to finally save the world. As they progress, the characters will unlock new skills, outfits and weapons that will enable them to face ever-increasing challenges.
It seems that the devs are focusing on the cooperation mode - up to three players are able to play together, both online and in split-screen mode. However, it will also be possible to play the game solo, in which case the other characters will be controlled by artificial intelligence.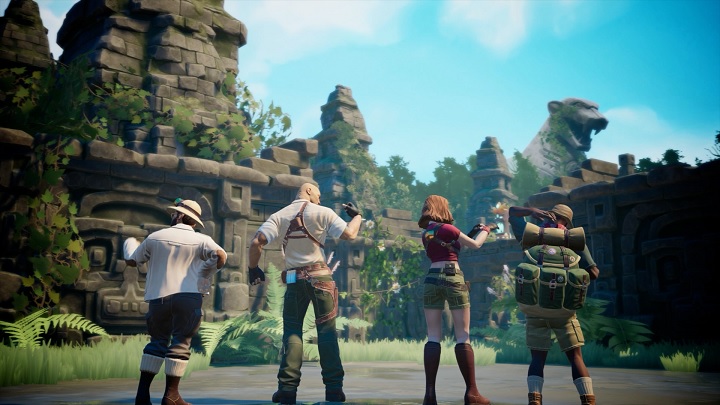 The game will not lack the virtual look-alike of Dwayne "The Rock" Johnson.
Based on the promo materials provided by the devs, it can be concluded that the title will look pleasing to the eye, mainly due to the vivid colors and cartoonish graphics. Jumanji: The Video Game hardware requirements have also been revealed - you can find them below.
Minimum equipment requirements
| | |
| --- | --- |
| OS: | Windows 7, 8 or 10 |
| CPU: | Intel Core 2 Quad Q6600 (2.4 GHz) or AMD equivalent |
| RAM: | 4 GB |
| GPU: | GeForce GT 430 (1024 MB) or Radeon HD 6850 (1024 MB) |
| DirectX: | Version 9.0 |
| HDD space: | 3 GB |
| Sound card: | Compatible with DirectX |
Recommended hardware requirements:
| | |
| --- | --- |
| OS: | Windows 10 |
| CPU: | Intel Core i5 4x2.6 GHz or AMD equivalent |
| RAM: | 4 GB |
| GPU: | GeForce GT 430 (1024 MB) or Radeon HD 6850 (1024 MB) |
| DirectX: | version 11 |
| HDD space: | 5 GB |
| Sound card: | Compatible with DirectX |