News
video games
27 January 2020, 20:51
Players and Devs of NBA 2K20 Pay Their Respect to Kobe Bryant
NBA 2K20 introduced a start screen to commemorate Kobe Bryant. Also the game's players paid a tribute to the tragically deceased legend of basketball with numerous meetings on the game's servers.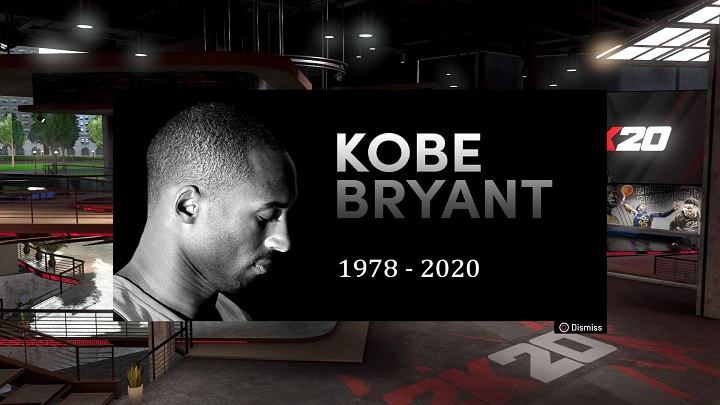 The creators and players of NBA 2K20 commemorated the deceased player.
If you've played NBA 2K20 today, you've probably noticed that when youlaunch the game, an unusual startup screen appeared. This is how Visual Concepts and Take-Two paid tribute to Kobe Bryant, a legendary NBA player who died in a helicopter crash yesterday. The basketball player, together with his 13-year-old daughter and seven other passengers, flew to the match at the Mamba Academy he founded, but the helicopter unexpectedly crashed in Calabasas California. All passengers died.
Kobe Bryant was no stranger to fans of 2K Sports' basketball series. Five-time NBA winner and two-time Olympic champion appeared on the cover of NBA 2K10 and in the opening video for MyCareer in 2016 installment, and in each edition was an integral member of the Los Angeles Lakers team. The sympathy of the studio and the publisher of the cycle towards "Black Mamba" (as the player called himself) strikes in the messages posted by their employees on Twitter. The basketball player was mentioned by Chris Manning, responsible for contacts with the NBA 2K community. The players also considered it appropriate to commemorate their idol in the game. According to Internet users, a crowd of characters dressed in the colors of Los Angeles Lakers appeared on NBA 2K20 's servers.
NBA 2K is not the only series of video games in which we could see "Black Mamba". Since the 1990s, Kobe Bryant has appeared in almost a hundred productions under license from the NBA, on platforms and mobile devices of Nintendo, Sega, Sony and Microsoft. The basketball player appeared in both the flagship series like NBA Live as well as in more unusual installments like NBA Street, NBA Jam or NBA Ballers.