News
video games
29 August 2019, 13:00
NBA 2K20 - MyTeam Mode Trailer is a Microtransaction Nightmare
The MyTeam mode trailer in NBA 2K20 has appeared on the web. The video focuses on microtransactions and looks more like an ad for a casino than a basketball game.
NBA 2K20 IN A NUTSHELL:
Developer: Visual Concepts
Publisher: 2K Sports
Genre: sports game
Platforms: PC, PS4, XONE, Switch
Release date: September 6, 2019
Take-Two Interactive has released a new trailer for NBA 2K20, this year's installment of the popular basketball game series. The video focuses on the MyTeam mode, and what it shows does not look very attractive. In practice, most of what we can find in it are microtransactions or things related to them.
The trailer shows lootboxes, various card systems, login bonuses and several mini-games associated with virtual currencies. It's no surprise that YouTube has almost twice as many negative ratings as positive.
Some time ago, the president of Take-Two Interactive Karls Slatoff defended lootbox mechanics, claiming that they were not gambling. After this trailer, where we can see a virtual one-armed bandit, his words ring hollow, to say the least.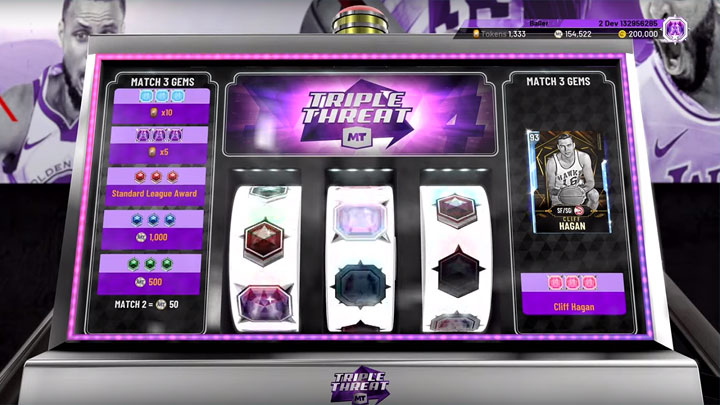 Why is there a slot machine in a basketball game?
Although such a strong focus on microtransactions is sad, it will not really affect the popularity of the game. Last year's NBA 2K19 suffers from a similar condition. The game misses no opportunities to get more money from the players. The result is that the whole thing is more like a mobile free-to-play production than a paid console title. Nevertheless, the title became the biggest bestseller in the series, finding over 12 million buyers, and the publisher boasts that it makes a fortune on microtransactions.
Despite the increasing emphasis on spending real money, the popularity of the series is still growing. No wonder that Take-Two Interactive does not intend to change the direction of the franchise's development.
NBA 2K20 will be released on September 6, this year. The game will launch on PC, Xbox One, PlayStation 4 and Nintendo Switch.