Assassin's Creed: Syndicate Expansions & DLCs
Game Expansions and DLCs available for Assassin's Creed: Syndicate Video Game.
Game Expansions for Assassin's Creed: Syndicate

Assassin's Creed: Syndicate - The Last Maharaja
Action 01 March 2016
A DLC for Assassinís Creed: Syndicate by Ubisoft. The downloadable content requires the base game. The Last Maharaja tells a story of an Indian aristocrat, named Duleep Singh, who is trying to regain his right to the maharaja title. His quest interferes with the plans of the British East India Company and its allies, the Templar Order. Interchangeably assuming the roles of the Frye siblings, the player helps the aforementioned aristocrat in his fight for justice. The plot of The Last Maharaja consists of ten missions integrated into the main campaign of Assassinís Creed: Syndicate and they can be accessed after completing Sequence 3. Mechanically, the game does not introduce anything new Ė the DLC a third-person action game with emphasis on free roaming, stealth elements, and dynamic combat.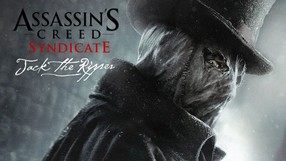 Assassin's Creed: Syndicate - Jack the Ripper
Action 15 December 2015
The first large story-driven expansion to Ubisoftís Assassinís Creed: Syndicate. The story is set in the year 1888, 20 years after the events of the base game, and focuses on the hunt for the infamous serial killer known as Jack the Ripper. When Scotland Yardís investigation proves ineffective and panic grows in the hearts of the citizens of London, the task of stopping the monster falls upon Jacob and Evie (the latter being the main protagonist this time). Assassinís Creed: Syndicate Ė Jack the Ripper offers 10 new missions set within a small, contained area of London, as well as a bonus series of missions, in which you play as the titular killer. In terms of gameplay the expansion brings no major changes, with the exception of the addition of a three-tier fear indicator for all characters. Moreover, the characters can also use new gadgets that induce hallucinogenic effects.
DLCs for Assassin's Creed: Syndicate
PCPS4XONE
Streets of London Pack
DLC 19 January 2016
PCPS4XONE
Victorian Legends Outfit for Jacob
DLC 19 November 2015
PCPS4XONE
Victorian Legends Pack
DLC 19 November 2015
PCPS4XONE
Steampunk Outfit for Evie
DLC 18 November 2015
PCPS4XONE
Steampunk Pack
DLC 18 November 2015
PCPS4XONE
The Dreadful Crimes
DLC 23 October 2015