News
video games
19 September 2023, 11:03
Bethesda's Publishing Plans Leaked; Fallout 3 and Oblivion Remasters Mentioned
Documents with Betheda's upcoming publishing plans have been leaked. They list Dishonored 3, Ghostwire Tokyo 2, remasters of Fallout 4 and Oblivion, and Doom Year Zero, among others.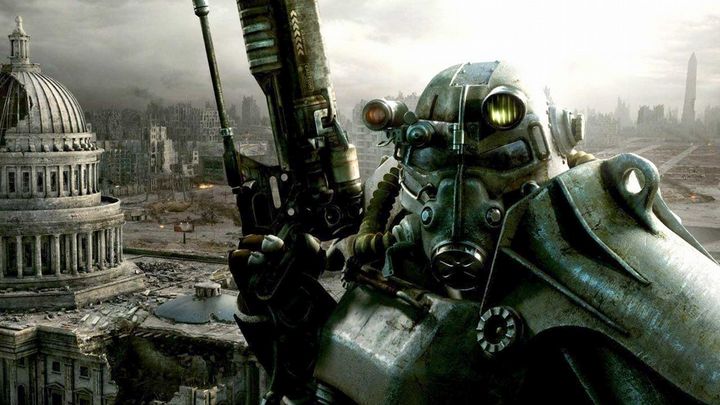 Court proceedings related to the acceptance of Microsoft's acquisition of Activision Blizzard have once again resulted in the disclosure of interesting information about upcoming projects. This time we received a full list of upcoming games from Bethesda and its studios.
The document is several years old, so many of the games listed in it have already been released. So let's focus only on upcoming projects. Among them we will find the following items:
Oblivion Remaster
DLC for Starfield
Doom Year Zero plus two DLCs
Project Kestrel
Project Platinum
A game based on an existing brand (it's not Indiana Jones, because that project was mentioned earlier in the document)
Fallout 3 Remaster
Ghostwire Tokyo 2
Dishonored 3
The document is several years old, so it only shows what Bethesda's plans were at the time. This means some of these projects may have been cancelled, and teams working under this banner may also be working on other titles that are not on this list. However, even taking this into account, this information is very interesting.
Fans of Arkane should be pleased by the presence of Dishonored 3, especially since in recent years there have been reports suggesting that the brand may have gone into hiatus. After the disastrous reception of the co-op focused Redfall the team would be well served by a return to its most popular series.
Also worth noting Doom Year Zero. The title suggests that it will be a prequel. In addition, I am personally pleased by the presence of the sequel to Ghostwire: Tokyo. The first part was far from perfect (despite this, the game was played by 6 million people), but it was still one of my favorite games of last year thanks to its wonderfully realized world and perfectly designed missions, so I would love to see what Tango Ghostworks would offer in a sequel.
On the other hand, remasters of Fallout 3 and Oblivion probably won't excite anyone, but no doubt many gamers would love to play refreshed versions of both of the two.
Starfield was supposed to come to PlayStation 5
By the way, the document also revealed other interesting information. An email from 2020 reveals that before Microsoft bought out Bethesda, there were plans to release Starfield on PlayStation 5.
The email also mentions something called project Hibiki, but this is not a new production. At the time, it was the codename of Hi-Fi Rush.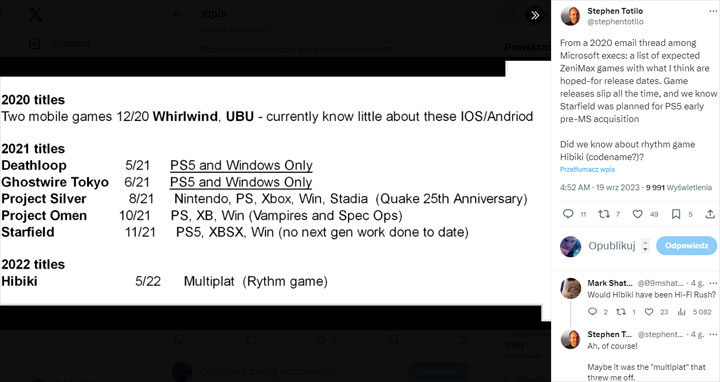 Source: Twitter.