News
video games
02 June 2023, 16:49
Blizzard Fixes Diablo 4 Early Access; Players Coped by Buying Currency for $4
Diablo 4's early access launched last night, and it was not without its problems, which players tried to circumvent by reaching for... microtransactions. Fortunately, Blizzard was quick to assure that solving the bug does not require additional payments.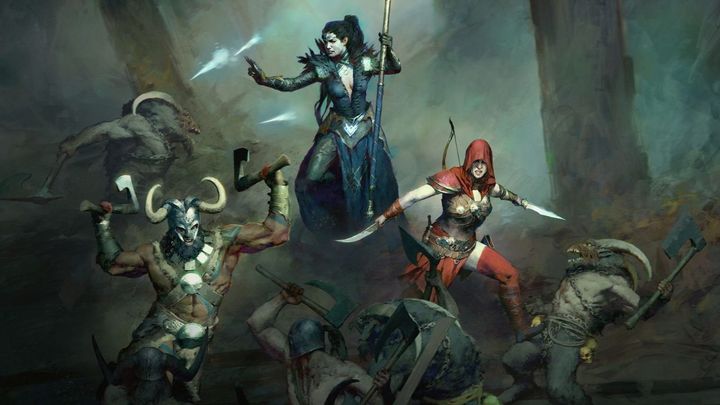 The Early Access to Diablo 4 has launched. The much-awaited return of the "king" of hack'n'slash - contrary to Blizzard's assurances - did not take place without problems.
For a long time, users could not log into the game on PlayStation. Xbox and PC owners also encountered some complications - although here there was far fewer reported problems.
Diablo 4 - bug 315306
The biggest issue of the Diablo 4 Early Access launch was, surprisingly, not long queues, but a bug bearing the number 315306, which stood for "no valid license", and which prevented some players from logging into the servers.
The license problem effectively prevented players from playing Diablo 4 on PlayStation 5.
The bug - at a much lower intensity - also occurred on PC and Xboxes.
Developers of Diablo have fairly efficiently provided information on how to solve the problem on PC - you can find it here.
Although Blizzard quickly noticed the problem of bug 315306 and with the support of Sony began to solve the problem with licenses on PlayStation, players began to act on their own.
Where Blizzard can't, send in the fans - just make it quick
Faithful Diablo players - as history shows - are not famous for their patience. The problem with the license has enraged avid fans of the game to such an extent that they began to look for a solution to bug 315306 on their own.
It quickly became apparent that the game's license was being authenticated by ... microtransactions. Some supporters of Diablo confessed on the forum, that they managed to solve the problem by purchasing the game's virtual currency on the PS Store.
Interestingly, a Reddit user suggested, that all that was needed to solve the problem was to download one of the demo versions of any game from the PlayStation Store to "renew" the console's license - this information was later confirmed by several more people.
Blizzard recognized the reports of the need to pay extra money for trouble-free play and issued an announcement, in which the team dismissed the information about the need to pay, while assuring of progress in resolving the issue on PlayStation.
"We would like to point out to players that buying things to solve the problem is NOT necessary. It was a problem at the license level and required some fixes, but it seems to be better now. Just keep trying, and the situation should be fixed - without the need to spend additional funds."
As our editors report, a small patch hit the PlayStation 5 platform in the early morning hours (it downloads very quickly, so it probably takes up a few hundred MB at most).
Blizzard did not share a detailed description of the patch, but we can suspect that the update focused on resolving licensing issues, as suggested by the dwindling number of posts reporting this problem.
A few other minor problems
Error 315306 is not the only one that accompanied the Early Access launch of Diablo 4, as we can find out by visiting Reddit and the game's official forum.
Some players - especially on PC - are experiencing sizable and sudden clipping.
One user reported a bug that makes it impossible to select a character.
In turn, another Early Access participant drew attention to high CPU temperature when opening the shopkeeper interface.
Other problems included the game shutting down, desynchorized sound or the inability to launch Diablo 4.
Devil not so black
Although Diablo 4 Early Access launch wasn't smooth as butter, the web is already flooded with numerous praises for Blizzardsuggesting that this is the best launch in the brand's history.
Fans of the game - especially those playing on PCs - are mainly happy that "the servers held," and this time the mythical bug 37 remained only in the dark recesses of their minds.
"My brother and I reached level 21 and had a great time. Absolutely no problems."
"Yes, it was a smooth and gentle launch."
Players reported a record low number of bugs, and disconnections from the server were rare as well. What's more, queues - to the surprise of many - turned out to be extremely short, a few minutes at most. That's a new one for Diablo fans.
"I am stunned that there were no queues or delays.... time to sleep.... tomorrow I have work, and then another night in Diablo 4... so far I love this game."
"The game launched as smoothly as possible. I think I might have waited 30 seconds to log in. It makes me laugh at all the skeptics who are probably sitting in a corner right now sucking their thumbs because they were wrong. I love it."
It's worth noting that this was only the launch of Early Access. The real test awaits Blizzard on June 6, the day of the game's official release - then the gates of Sanctuary will be stormed by a lot more players. No wonder, because critics' reviews indicate that Diablo 4 is one hell of a game.