News
video games
04 April 2023, 13:52
Capcom Experiences a Golden Age; Company Makes Millions and Stocks Soar
Thanks to Resident Evil 4, Capcom's stock prices have reached record levels. Analysts are predicting impressive sales results for the remake.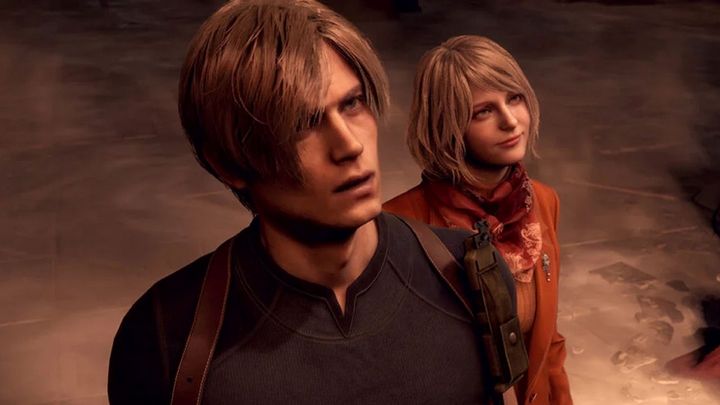 Recent years have been exceptionally successful for Capcom, and the publisher's latest hit - remake of Resident Evil 4 - has taken its stock price to highest level ever.
Yesterday, Capcom's share price on the Tokyo Stock Exchange rose first to 4850 and then to 4865 yen. This is the highest level in the history of this company.
Analysts had been expecting the stock to rise for some time, and had encouraged their customers to buy it because of the release of Resident Evil 4.
It was emphasized that Resident Evil 4 received better reviews than last year's Resident Evil Village (that game has an average rating of 84% on Opencritic, while in the case of RE4 it is 92%).
Some analysts predict that sales of Resident Evil 4 will exceed 10 million copies one year after its release.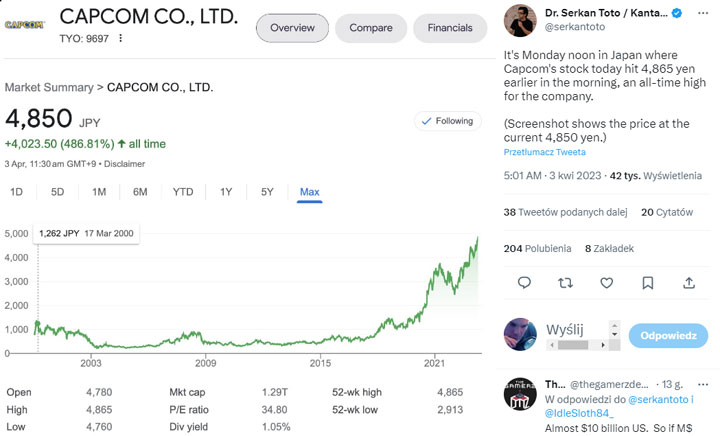 Source: Twitter.
Steady growth
Capcom's good fortune is the result of the past few years. Back in 2016, the share price barely exceeded 1,000 yen. Things started to change in 2017, when Resident Evil VII: Biohazard debuted, which refreshed the series' formula and convinced many new users to play. A year later, the company did the same with its other big brand, releasing Monster Hunter: World, which remains to this day the biggest bestseller in the Japanese publisher's output.
The following years saw further development of both brands with such productions as Resident Evil 2, Monster Hunter: Rise, Resident Evil 3, Monster Hunter: World - Iceborne or Resident Evil Village. All of these items were successes - even the once most coldly received among them, RE3, has already found more than 6.4 million buyers. Also doing well was Devil May Cry 5, whose sales exceeded 6.5 million units.
Resident Evil 4 Remake was released on PC, Xbox One, Xbox Series X, Xbox Series S, PlayStation 4 and PlayStation 5.