News
video games
30 May 2023, 13:54
Diablo 4 Plays Chicken; In-game Rewards Thanks to KFC
Recent rumors have been confirmed - fast food chain KFC is continuing its partnership with Blizzard. As a result, some customers of the restaurant can earn rewards in Diablo IV.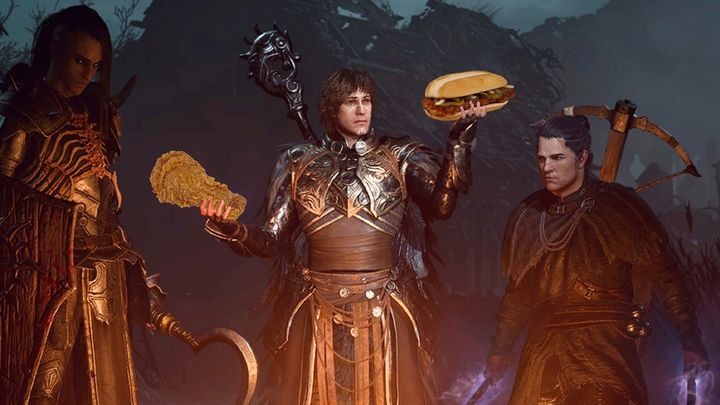 In early May, there were unofficial reports that in connection with the upcoming release of Diablo IV, Blizzard Entertainment will once again join forces with fast food chain KFC. The effect of the cooperation between the two companies was to be rewards (cosmetic items) that customers of the restaurant could receive in the upcoming game.
The leaks were confirmed. On the official website of KFC in the United States there was official confirmation of a second round of cooperation with Blizzard and Diablo 4.
From the information provided by Wowhead we learn that U.S. customers who order a sandwich or an entire set through the restaurant's website or app between May 29 and July 2 can expect codes to receive cosmetic items in Diablo IV. To redeem the coupon, they must first link their KFC account to Battle.net.
Each customer will be able to pick up a total of five cosmetic items. With the cheapest sandwiches at around $5, unlocking all the extras in Diablo IV will cost about $25.
What may come as a surprise is that there is little information about the promotion. Both Blizzard and KFC do not advertise their partnership anywhere else. The restaurant's website shows a FAQ page, but at the time of writing this post it is inactive. Customers must therefore find out the details on their own. We are curious to see if some Diablo fans will be equally determined, as on the occasion of the first action with KFC.
Diablo IV will be released on June 6. The game will be available on PC, PS4, PS5, XOne and XSX/S.. Those who pre-order the Deluxe or Ultimate Edition will start their adventure in Sanctuary four days earlier.