News
guides
31 March 2023, 16:30
Dredge - Blackstone Key Explained; Learn about Sign of Ruin
Many people on the internet forums, like Reddit and Steam, wonder about Blackstone Key DLC in Dredge. We talk about Sign of Ruin and Arterial Engine in this article.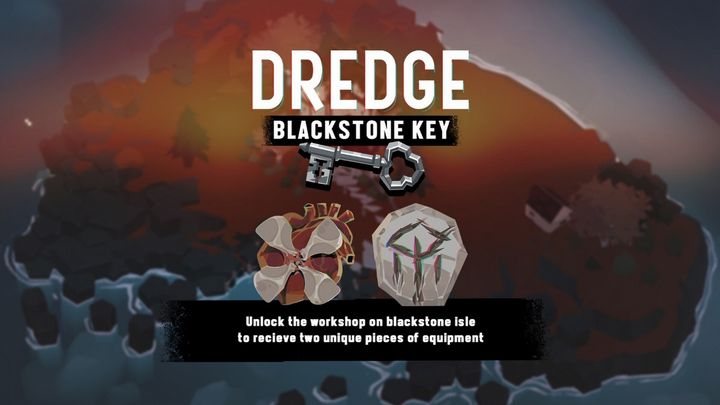 Dredge is a new game about fishing with some Lovecraftian vibe. The player becomes a fisherman who starts his new position on a very strange island. There is something in the water. And it is scarry. The game is very popular and has almost all positive reviews (at the moment of writing this text). However, many players wonder about Blackstone key DLC. It is possible to find many queries about it on various forums like Steam or Reddit. In this article we will answer this question.
What is the Blackstone Key?
Blackstone Key is a DLC for Dredge. You can buy it separately or as a part of Deluxe Edition. Representant of the developer on Steam clearly stated that the original idea was that it should be content exclusively available for Deluxe Edition owners, nevertheless, the publisher decided otherwise. This DLC contains 2 objects. Both items are pieces of equipment for your boat. You can't get them in-game.
You can read their in-game description in the following sections of this article.
Sign of Ruin
A symbol of the deep is carved into this small talisman. It's sure to draw the attention of those attuned to it.
It seems that this item increases chances of getting and Aberration (a special rare fish with purple background). It may also cause night creatures to attack more often (but it is not confirmed).
Arterial Engine
The bony blades of this grotesque engine are driven by a pulsing heart. It beats in time with your own.
Do I need to buy Blackstone Key to experience the story fully?
The answer is no. items available in Blackstone Key DLC are only pieces of equipment. Developers clearly stated that they are not connected with the story. People who do not have them can still experience Dredge fully.
How can I activate Blackstone Key in Dredge?
Of course, you have to buy and download the content on your respective platform. However, watch out; for example, players on Xbox (at least some of them) have to download this DLC separately (the situation may be similar on other platforms). Having the DLC, you have to go to Blackstone Isle and collect items from the mysterious workshop.
Read also: