News
video games
01 March 2022, 10:29
FIFA 23 Rumored to Offer Cross-play and Women's World Cup
Credible rumors about FIFA 23 have surfaced on the web. According to them, it will offer cross-play and women's world cup. Great progress was also said to be made in terms of animation.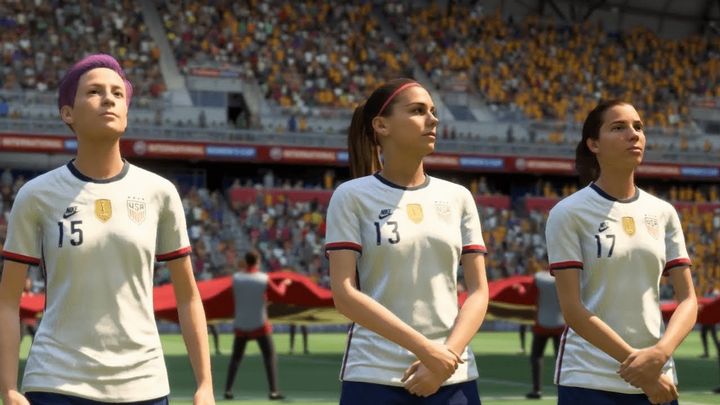 Xfire published interesting reports about FIFA 23, this year's installment of the football series by Electronic Arts. These are just rumors, so we should approach them with caution, but we give them some credence, because their source is the proven leaker Tom Henderson. He has repeatedly provided tips on EA games, which in the end were confirmed to be true.
FIFA 23 rumors
For the first time in the series' history, the game will offer cross-play, enabling users to play together across multiple platforms.
FIFA 23 will feature two World Cups - men's and women's.
EA has acquired expanded licenses of different leagues so as to offer more content for both male and female fans.
The game will utilize a vastly improved version of Hypermotion technology that debuted in last year's game. The tools used by the developers have become so advanced that player animations are recorded using stadium cameras during real matches. It is no longer necessary to use motion capture suits. As a result, the creators collected a hundred times more data in one year than during the development process of all previous installments.
There was speculation at one time that FIFA 23 could be a free-to-play game, but according to Henderson, these reports are false.
It is worth mentioning that Electronic Arts is considering abandonment of the FIFA license, which would force rebranding. The current contract, however, will end in 2023, so this change, if it happens, will not affect this year's installment.
Recall that the latest installment of the series, which is FIFA 22, launched on October 1, 2021 on PlayStation 4, PlayStation 5, Xbox One, Xbox Series X/S, PCs and Google Stadia. Nintendo Switch received a truncated version, called FIFA 22: Legacy Edition.