News
video games
09 August 2019, 23:14
author: Michael Kulakowski
Total War Saga - New Installment Set During the Trojan War
Creative Assembly Studio has registered the Total War Saga: Troy trademark, which is associated with the next and unannounced spin-off of the popular strategy game series. As the title suggests, the game will take place during the mythical Trojan War. The title may be revealed during the upcoming gamescom fair.
Fans of Total War - strategy game series gathered on Reddit have discovered that at the end of July a new trademark associated with the popular franchise - Total War Saga: Troy - was registered at the British Patent Office. We are almost certainlydealing here with the next spin-off installment of the sub-series focusing on historical periods and events, whose scope and importance are much too small for a fully-fledged Total War. Its first installment, titled Total War Saga: Thrones of Britannia, was released in 2018.
As the title suggests, Total War Saga: Troy will most likely focus on the legendary Trojan War described by Homer in Illiad. The conflict, which lasted for ten years, was between Greeks and Trojans and was caused by the kidnapping of Helen, wife of the King of Sparta, by the Trojan Prince Paris. Fans of Creative Assembly should expect a large number of fantastic elements in the game. Not only did mythical heroes such as Achilles, Ajax, and Ulysses take part in the war, but also the Greek gods have made their presence felt. However, this is nothing special for the series, apart from Warhammer titles, the latest release of Total War: Three Kingdoms was also based largely on mythical history, and a significant role on the battlefield is played by units of heroes with virtually superhuman abilities.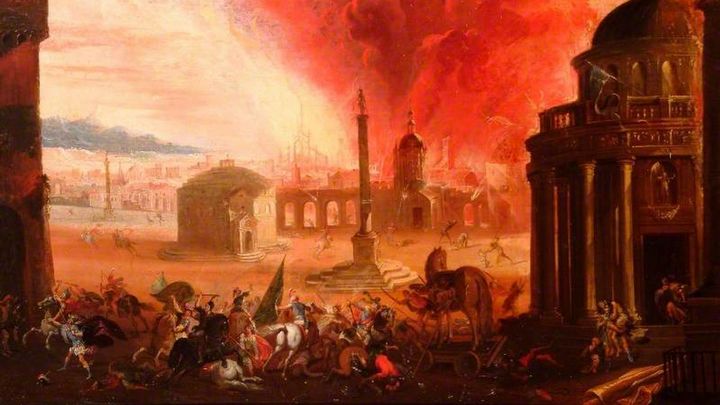 During the game we will most likely be able to give orders to mythical heroes and take part in the siege of the mythical Troy...
Total War Saga: Troy may be shown for the first time at gamescom fair in Cologne, which officially starts on August 20. We know that in the evening of August 19, during the opening conference, Sega, to which Creative Assembly belongs, is to announce an AAA game. Perhaps they mean the new strategy game. It is worth noting that the developers from Creative Assembly have already denied that it was their new project.