News
video games
02 June 2023, 13:54
New York City in Marvel's Spider-Man 2 Will be Huge and Characters Change Immediate
Developers from Insomniac revealed how much bigger Marvel's Spider-Man 2's map will be compared to the original, and talked a bit about the system of switching between characters.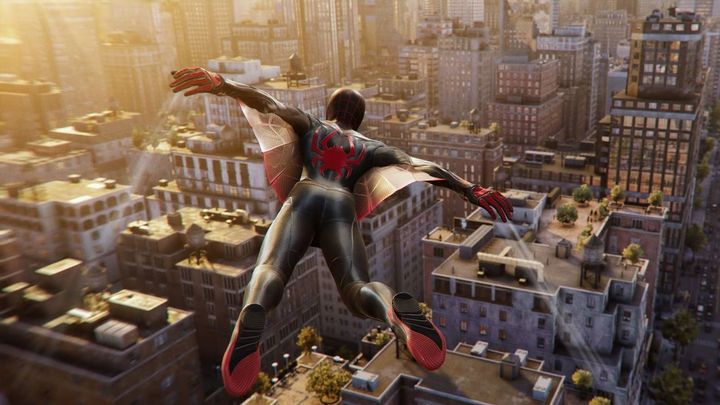 Thanks to an interview published byFamitsu we learned some interesting things about Marvel's Spider-Man 2.
The game world will be about twice as large as in the previous installment. The map will include a refreshed version of the area from the prequel and new locales in the form of Queens and Brooklyn.
The new neighborhoods have a different character than the Manhattan known from the first part. The game will provide not only fresh vistas, but also new types of challenges, such as a river battle.
While exploring the open world, we will be able to switch freely between Peter Parker and Miles Morales. However, there will be moments in missions when the protagonist is imposed on us for plot reasons.
Both characters are expected to have unique characteristics, diversifying the gameplay. For example - Miles will be faster than Peter.
The presence of two protagonists in Marvel's Spider-Man 2 caused some players to dream of a cooperative mode. Unfortunately, the developers have cut off this speculation, categorically stating that the game will not feature any form of multiplayer - the title will be focused solely on single-player experience.
Marvel's Spider-Man 2 is heading exclusively for PlayStation 5. The devs are not ready to reveal the release date for now, but rumors suggest that the game will debut in September, this year.
Although the game is being developed only with the PS5 in mind, the development of a PC edition seems to be a matter of time. Sony has been bringing most of its titles to PC for some time, with a delay of several years. The first part, by the way, turned out to be Sony's fastest-selling PC port, already finding more than 1.5 million buyers.