News
video games
09 May 2022, 21:44
Salt and Sacrifice Reviews - Soulslike Game Unafraid of Elden Ring
Salt & Sanctuary goes in a different direction than FromSoftware's title and comes off quite well (although don't expect perfection).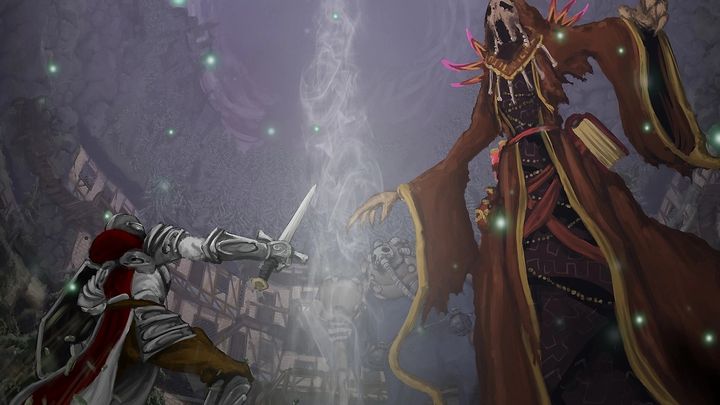 Six years ago Salt and Sanctuary was one of the few games inspired by the Souls series. Later, the market was flooded by a wave of more or less successful imitators of FromSoftware's work, and tomorrow the continuation of the "salty" work of Ska Studios will be released. Salt and Sacrifice has already been checked out by reviewers.
Salt and Sacrifice - selected reviews
COGconected - 90/100
God is a Geek - 9/10
Twinfinite - 4/5
Eurogamer Italy - 7/10
Wellplayed - 6.5/10
Screen Rant - 3/5
We Got This Covered - 3/5
Multiplayer.it - 5.9/10
Metascore: 75/100 (average of 10 ratings for the PC version)
The new part the Salt and series did not captivate everyone, but overall it was warmly received by the reviewers. Already at the start, one thing must be emphasized: Sacrifice does not introduce drastic changes compared to the first installment. It's still a challenging mix of soulslike and metroidvania with all consequences. So if Salt and Sanctuary rejected you with, for example, high level of difficulty or the need to return to previous locations, Sacrifice is unlikely to redeem its creators in your eyes.
Prettier, but not easier
This doesn't mean that the second part of the series is "just" a repeat of the gameplay with new locations and bosses. Salt and Sacrifice introduces a lot of improvements over its predecessor: from more precise controls to a completely new visual style. The latter has earned the developers a lot of praise, despite - or perhaps because of - the departure from the extremely grim visuals used in Sanctuary.
However, it's not the aesthetics, but the combat that is the star here. In this respect Salt and Sacrifice passes the test with flying colors - at least according to most reviewers. Clashes, especially with bosses, are challenging and satisfying. There is also no shortage of items to obtain, and while grind is fully optional, journalists often had trouble breaking away from the game. One journalist described this as the "one more mage to kill" or "one more piece of armor to craft" syndrome (the equipment system is similar to that from the Monster Hunter series).
A pinch of salt
Despite this praise, even reviewers sympathetic to Salt and Sacrifice were not entirely thrilled with the game. The game can be unforgiving, too much so in the opinion of some.
Some blamed certain mechanics, such as pausing the regeneration of the stamina bar when receiving damage (which can lead to a situation where the player character is literally juggled through the air by mages or slammed into the ground until dead, with no chance of escape). Others have pointed to "interesting" hitboxes attacks or visual effects that unintentionally (?) make traps difficult to see as examples of unbalanced gameplay.
Leaving aside the more specific or less frequent criticisms or praise (for example, regarding the narrative), the vast majority of reviewers have fond memories of their time spent with Salt and Sacrifice. It's not a perfect game, but a solid metroidvania that shows the passion of its creators.
Whether the game appeals to you, you will be able to find out soon. Salt and Sacrifice will debut tomorrow on PC (on Epic Games Store), PlayStation 4 and PlayStation 5.