Essays
20 April 2022, 17:02
Games With Best Graphics Coming in 2022
With the ninth generation of consoles in pretty much full swing, this is the year of some stunning games. Horizon Forbidden West was just the beginning – here are games with the best and most realistic graphics coming in 2022.
It's hard to resist the impression that many developers have in recent years focused on maximum realism. Graphics that were impossible to achieve a few years ago, now turn out to be entirely possible, especially for large developers. Visually refined games have already become the standard that we've come to expect from new titles and we eagerly scorn all the shortcomings.
Gamers seem sort of split into two camps, with one camp diligently counting every frame of animation per second and pointing out graphical pitfalls, and the other saying that good graphics won't save a bad game. However, it's intuitive to assume that the same mechanics and stories will be more compelling with nice graphics. Fortunately, this year is full of such games that, apart from impressive visuals, have promising gameplay to offer. Regardless of how important the graphics are for you in the end, players from both camps should be pleased anyhow, and our screens should be blooming with stunning visuals.
God of War Ragnarok
Developer: Sony Interactive Entertainment
Release date: 2022
Do you remember the scandal concerning Thor's body fat content? Even if you missed out on God of War by some miracle and you don't know much about this game, you sure have seen the screenshot below. Of course, it aroused a many arguments about whether Thor could have a tummy or be ripped like hell. When the emotions have subsided and everyone got used to this version of the Nordic god, we could look at him more objectively – and he does make a great impression graphically.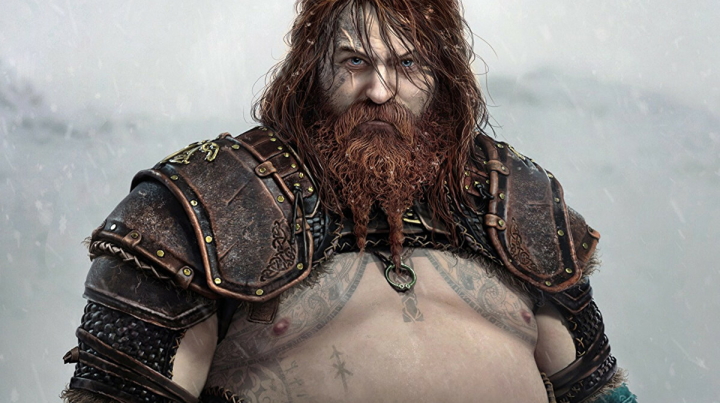 God of War: Ragnarok will be a direct sequel to God of War that was released on PS4 in 2018. Its action will take place a few years after the events of the last game in the series. This time, again playing as Kratos, we will face the events of the title ragnarok, i.e. the great battle between gods and giants. The first trailer, unveiled last September, focused on story, but also showed some gameplay snippets.
When it comes to visuals, the Ragnarok sneak peek looks like a movie trailer. Details such as skin skin pigmentation differences and individual strands of hair make it easy to confuse the pre-rendered video with a live-action one. The trailer impresses not only with the characters, but also with details of their costumes and backgrounds that efficiently imitate real weather conditions. We can only imagine how the game will look on the TV screen, running on PS5.
The game's exclusivity on the PlayStation is probably the only downside here. God of War: Ragnarok will be released on PlayStation 4 and PlayStation 5 and it will not get ports for other platforms soon, if at all. The previous installment of the series, released four years ago, didn't arrive on PC until this year, so unless we own a PS4 or PS5, we will not immediately enjoy the journey through the Nine Worlds.