News
hardware & software
17 December 2021, 14:46
Steam Deck Without Further Delays; CS:GO and Half-Life Will Get Updates
Steam Deck won't be experiencing another delay, despite continued issues with component availability. In the meantime, Valve is preparing updates for Half-Life, Counter-Strike: Global Offensive, and other games with the upcoming console in mind.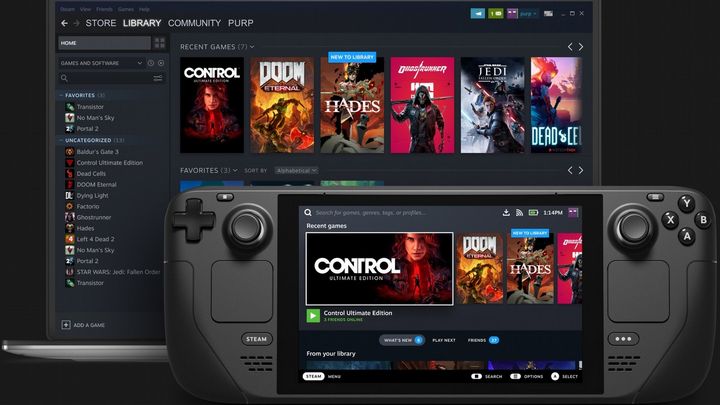 IN A NUTSHELL:
Valve does not expect another delay in the launch of Steam Deck, despite the continuing problems with the availability of about fifty components;
The company's developers are working on updates for games from Valve's catalogue (including CS:GO, Dota 2 and Half-Life), in order to provide a more comfortable gameplay experience on Steam Deck.
The recent delay of Steam Deck's release is expected to be the last one. Designer Greg Coomer assured in an interview for PC Gamer that everything is on track for the console to be released in February 2022:
"We think we're well on our way to that [Steam Deck's February 2022 release - ed. note]. We're still bitter that we had to move the date from late this year to early next year. But yes, all signs point to us being able to ship [Steam Deck] in February."
Steam Deck - a computer in the form of a portable console - was supposed to ship to buyers this month. However, Valve has had to push back the launch to 2022. The console's production itself is running smoothly, but component shortages cause some problems. Supply issues have affected the entire industry and Valve is no exception. Coomer reports that the company has deemed about fifty components "high risk," i.e., potentially very difficult to obtain in sufficient numbers to fulfill Steam Deck orders.
Still, Gabe Newell's company is hoping for good sales of the device, and not just in the first few weeks after the launch. The company plans for the initial "many thousands" of Steam Deck buyers to grow to "millions" by 2023. This may seem like a rather modest ambition, but it's important to remember that, unlike competitor devices, the Steam Deck is only sold remotely and only through Valve. In other words, you won't find it in electronics stores, where most people interested in buying a console would go.
It should also be added that Steam Deck isn't just about hardware challenges. Valve wants the console to be able to provide comfortable gameplay in almost every title from Steam's library, which has been tested for a long time. This includes also - or even primarily - games released by Valve. That's why the company is preparing updates for Counter-Strike: Global Offensive, Dota 2 and the Half-Life series, to improve the player experience on Steam Deck.
The improvements are not consistent between the titles. Dota 2 has already received an update to allow for gamepad controls. This has also long been available for use in CS:GO, but the developers are polishing up the gyroscopic targeting, among other things. However, in the case of all Half-Life'a games we can expect improved navigation through menus, etc.
Designer Lawrence Yang also mentioned two other brands from Valve's catalog: Portal and Left 4 Dead. The former series is already expected to run smoothly on Steam Deck, but the co-op zombie shooter needs "more attention." Yang also added that the company wants to look at "all" of its titles. Who knows, maybe even Team Fortress 2, which still hasn't gotten a "fat" content pack, but at least it's started getting minor updates more often.