News
movies & tv series
09 June 2023, 16:02
Twisted Metal TV Got a New Trailer; Sweet Tooth Shows Off Questionable Vocal Skills
A TV adaptation of the iconic game series Twisted Metal will soon debut on small screens. The production of the same name has just received a new teaser, which gives a better look at the crazy Sweet Tooth.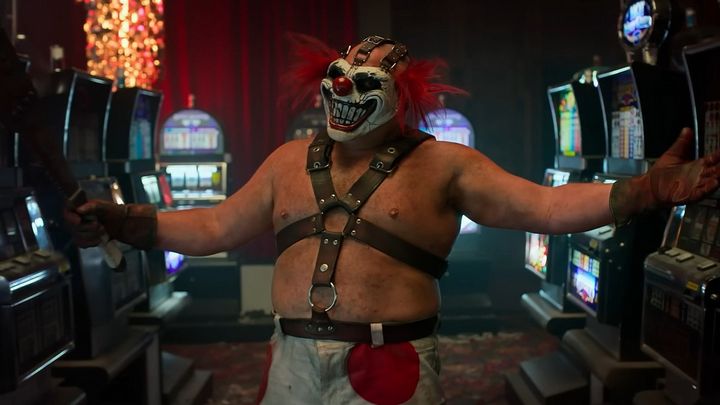 This year's Summer Game Fest provided us with some exciting news from the gaming industry. That's not all, however, as the two-hour event also featured live-action productions. Thus, we had the opportunity to watch not only trailer of the upcoming third season of The Witcher, but also an excerpt from the TV adaptation of Twisted Metal. Below you can get acquainted with this material and... the questionable vocal skills of the iconic Sweet Tooth.
Recall that the star of the show is Anthony Mackie, known for his role as MCU's Falcon. The actor plays the role of John Doe, who is forced to traverse a post-apocalyptic wilderness and deliver a mysterious package. The task is not an easy one, however, as the aforementioned Sweet Tooth lurks in wait for the hero. The iconic villain in a clown mask will be portrayed by wrestler Samoa Joe, while Will Arnett will lend his voice to the character. The protagonist will be accompanied on this very dangerous journey by car thief Quiet (Stephanie Beatriz).
The script for the show was developed by Rhett Reese and Paul Wernick. Sony Pictures Television and PlayStation Productions, among others, are responsible for the adaptation. Will Twisted Metal repeat the incredible success of The Last of Us? We will find out already on July 27, 2023, because then the series will debut on Peacock.. The production is expected to have a total of ten episodes.
For those who have not eaten their teeth on video games, we remind you that the first installment of Twisted Metal appeared on the market in 1995 on PlayStation consoles. Considered one of the forerunners of the so-called "vehicular combat" genre, it has seen several more installments over the years, the latest of which debuted in 2012. Who knows, maybe the TV adaptation will become - nomen omen - the driving force behind a reboot of the series?