News
video games
05 August 2019, 21:34
WWE 2K20 - Trailer, Release Date and Editions
2K Games unveiled the first trailer for WWE 2K20. We also learned about release date and the content of the special editions. The game will be release on October 22, this year.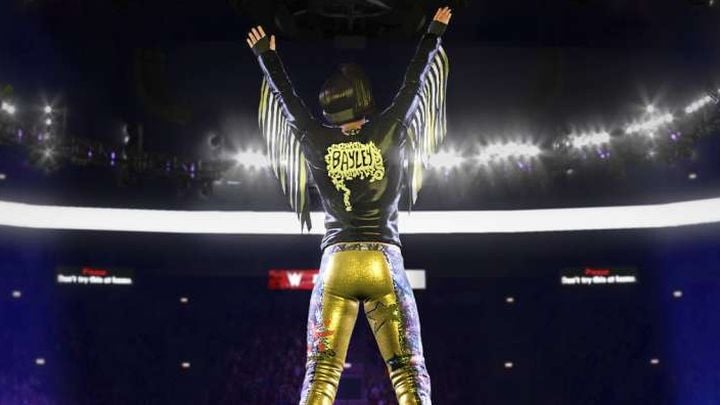 WWE 2K20 officially announced.
2K Games officially announced WWE 2K20, which is the next installment of the series focusing on wrestling. On this occasion, the first trailer of the game was shown and a bunch of details related to the game was shared. In addition, we also learned the release date and the content of special editions. The game will debut on October 22, this year on PC, Xbox One and PlayStation 4.
The trailer doesn't show much. It consists mostly of live-action advertisement, where the main role is played by wrestling stars, among which we can find 'Hulk' Hogan. The gameplay is shown only on a few seconds of material. The cover of WWE 2K20 was also showed on the trailer. Roman Reigns and Becky Lynch appeared on the cover.
Also published was information related to game modes, which can be found in WWE 2K20. They show that the title will put the emphasis on female characters. This can be seen in the 2K Showcase mode, where four female wrestlers will play the main role. The game variants known from previous editions, such as MyCareer and WWE Towers, will also return.
WWE 2K20, in direct response to fan feedback, will include several franchise firsts alongside streamlined gameplay and a variety of popular modes. The story-driven, objective-based 2K Showcase: The Women's Evolution will follow the careers of the Four Horsewomen – Raw Women's Champion Becky Lynch, SmackDown Women's Champion Bayley, Charlotte Flair and Sasha Banks. Controls will be streamlined to allow new players to jump into the game more easily, while experienced players will still enjoy a challenge.
In addition, WWE 2K20 players will be able to compete as both male and female Superstars in MyCAREER and Mixed Tag matches, while last year's popular WWE Towers returns with exciting new challenges, including a story-driven Tower centered around the career of Roman Reigns.
The game will also include WWE 2K20 Originals feature. It is designed to offer players access to new thematic game worlds and new content. At the moment, the details are unknown. It is only known that it may contain paid content and will be released periodically. Additionally, anyone who purchased a pre-order of the game will have access to the first pack of WWE 2K20 Originals.
2K Games announced that in addition to the standard version, WWE 2K20 will also be available in two special editions.
WWE 2K20 Deluxe Edition
Full version of the game;
Accelerator that gives access to all unlockable content on day one and allows you to influence character statistics;
Kickstart giving you additional development points in MyCareer mode;
Full set of WWE 2K20 Originals packs;
Bonus digital content, including two playable characters - Chyna and 'Hulk' Hogan;
WWE SuperCard Limited Edition Cards (for physical pre-orders).
WWE 2K20 Collector's Edition
In addition to the content from Deluxe Edition we will also receive:
Physical collector's items, the list of which will be revealed later.