Essays
05 June 2023, 16:02
Summer Game Fest of Our Dreams - A Wish List
Looking forward to the Summer Game Fest, we're eager for surprises. Crossing our fingers for an unexpected finale, here's a list of games that have already confirmed participation, as well as those that are only probable – and would be exciting news!
Once, dreams about exciting announcements at the E3 were much simpler. Not just because E3 existed – we all knew what we were waiting for all year, to find out some awesome comebacks or surprising new stuff. The best thing about E3 was that it used to bring together all the publishers, big and small. We expected games from Sony, Microsoft, EA, Ubisoft, Activision, Bethesda, Square Enix and others in a several-day marathon of ceremonial, sometimes overly, shows.
Today we have sort of a pseudo-E3, the June announcements under the Summer Game Fest banner, even located in the same city as the memorable fair, except they're now scattered across several separate events, as if everyone finally got their long-awaited freedom. And so, dreaming about the titles we would most like to see, we first have to do a bit of predicting in terms of whether such a dream is even technically viable during such an event?
Can we expect a spectacular presentation from Electronic Arts, if there's no separate EA Play Live event, with the company having confirmed its participation in the main day of the summer festival? A similar question concerns Sony, which recently held its own Showcase, but we will allegedly see some PlayStation games again during the during the Summer Game Fest. Will it be loud, or are we talking about known, upcoming titles?
So with some caution, we present our dream games that we would like to see most at this year's Summer Game Fest and the related events. Starting with a quick overview of surefire hits we don't need to dream about, through once-announced titles that went silent, to increasingly improbable yet not impossible games.
Starfield, Phantom Liberty, Forza Motorsport, Assassin's Creed: Mirage, Avatar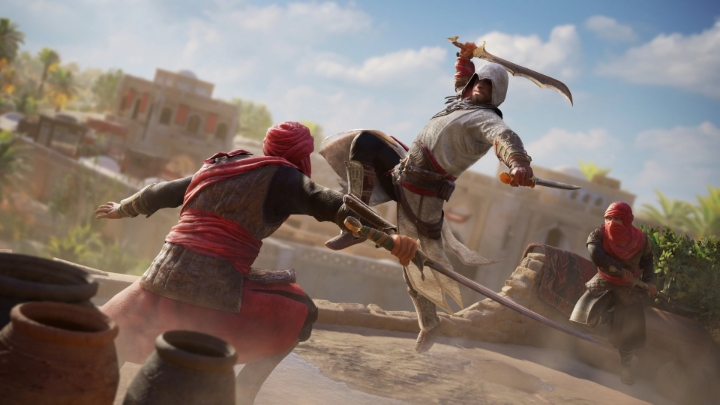 Source: Assassin's Creed: Mirage, 2023, Ubisoft
In this case, you don't have to be a dreamer. Several games have long been advertised as flagships of events such as Summer Game Fest, Xbox Games Showcase, or Ubisoft Forward Live. In the case of Starfield, we will even receive a special segment called Starfield Direct, dedicated exclusively to this game. The closer we get to the release of this sort of Skyrim in space, the greater our curiosity, fears, and hopes become. We want a timeless hit, but perhaps we should approach this with a healthy dose of skepticism – highly-anticipated AAA games don't have easy releases nowadays.
Microsoft also promised extensive gameplay from the career mode of Forza Motorsport – the biggest competitor of Gran Turismo 7. Many fans of racing have high expectations for this game, whetted after a long wait since the last installment. The devs from Turn 10 have a chance to surprise us with some really interesting new features. CD Projekt RED has also been posting pictures with the mesmerizing gaze of Idris Elba and the promise of new materials from the hyped expansion to Cyberpunk 2077 – Phantom Liberty, the only one this game will get. We can be quite confident about the quality of the plot. Chances are this will be something really good, as the team has had enough time to get their game together and might realize its full potential with this piece of DLC. Let's hope it will be as successful as the original release was problematic.
Ubisoft hasn't had a good streak lately, so it sticks to the guns and supports its strongest IP,Assassin's Creed. We will definitely see more gameplay materials showing the assassins in Baghdad in Assassin's Creed: Mirage – we already had a small taste during the PlayStation Showcase. The company also announced new information regarding the part set in ancient China, code name Jade and the VR-based Nexus. We should learn a bit about Avatar: The Frontiers of Pandora, although this game should be slowly wrapping up its marketing campaign, and about the competitor to Forza Motorsport, i.e. The Crew: Motorfest. Puzzlingly, Ubisoft Forward Live's party trailer skillfully sidesteps the topic of Skull & Bones, leading to the question: is it still alive?