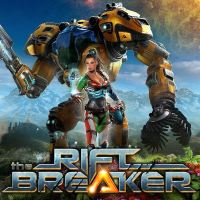 The Riftbreaker is an action game enriched with tower defense and RPG action elements. The production was developed by an independent Polish team of Exor Studios, whose portfolio includes, among other things, the warm welcome X-Morph: Defense.
Plot
The Riftbreaker takes us into the distant future, when mankind managed to master the technology of teleports, which in turn opened the possibility of colonization of other planets. The main character of the game is captain Ashley S. Novak, one of the Riftbreakers - elite units combining scientists and commandos. The protagonist travels one way to the globe of Galatea 37, located on the fringes of the Milky Way, and her task is to establish an earth bridgehead and open a worm-spatial tunnel leading to the blue planet. The fact that Captain Novak has a versatile mecha-armor, which Mr. Riggs caressingly called it, makes things a little easier.
Mechanics
In The Riftbreaker we observe the action from a bird's eye view. The authors give us a vast world overgrown with exotic, unknown vegetation and inhabited by foreign, often aggressive animal species. The survival in the wilderness is ensured by the above mentioned armour, the equipment of which can be adapted to the individual style of play. Nothing stands in the way of supplying it with an energetic blade, a flame thrower, a machine gun or even a powerful mortar.
Despite the danger lurking almost everywhere, it is necessary to travel the world along and across the globe, because in its corners you can come across a variety of raw materials and rare minerals necessary to build the base. In order to open a portal leading to the Earth, the protagonist must build a network of factories, mines and refineries, as well as laboratories and power plants within her premises. In addition, Captain Novak must build advanced posts to ensure easy access to sources of resources,
Of course, all this does not escape the attention of the dangerous creatures inhabiting the planet Galatea 37, who attack the headquarters of Ashley every day. In order to increase her chances of survival, the woman has to take care of her defence by building walls and towers around the base, as well as various barriers and gates. The fight against enemies also offers an opportunity for development, as the defeated enemies can be used to collect samples for research, as well as rare substances useful for developing new technologies, buildings, and finally weapons and tools for Riggs.
Game modes
Although The Riftbreaker only allows you to play alone, thanks to the support for streaming platforms, other players can somehow participate in our game, both by posing various challenges and helping us to play.
Technical aspects
The Riftbreaker works on the basis of the proprietary technology of Exor Studios team, i.e. Schmetterling 2.0. The three-dimensional graphic design of this production presents high quality, and you can enjoy, above all, a diverse and rich in details environment.
System requirements
PC / Windows
Recommended: Intel Core i5 2.6 GHz, 6 GB RAM, graphic card 2 GB GeForce GTX 960 or better, 4 GB HDD, Windows 10 64-bit
Minimum: Intel Core i3 2.6 GHz, 4 GB RAM, graphic card 1 GB GeForce GTX 460 or better, 4 GB HDD, Windows 7 SP1 64-bit