News
video games
02 June 2023, 18:33
CDP Prepares a World Tour With Cyberpunk 2077: Phantom Liberty
June is expected to be a big month for CD Projekt RED. The studio has announced the Phantom Tour; as part of the tour, the team will visit eight countries to advertise the DLC for Cyberpunk 2077.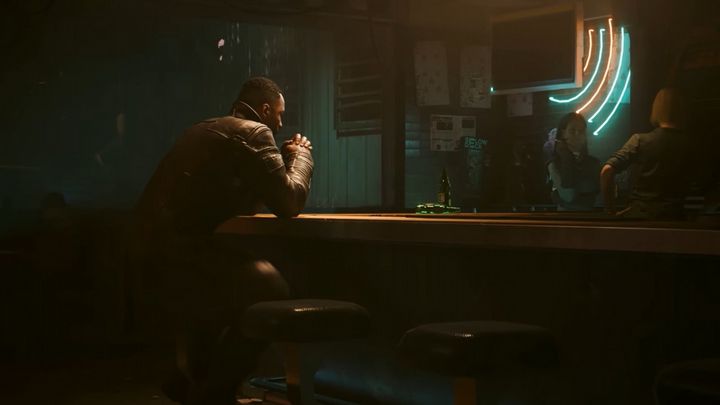 The creators of The Witcher game trilogy are embarking on a world tour to advertise the Phantom Liberty DLC for their other high-profile title - Cyberpunk 2077. In the near future CD Projekt RED is expected to reveal more information about the planned Phantom Tour. What's more, the developers reminded that the highly anticipated news about the expansion is also due in June.
Phantom Tour - where will CD Projekt go?
Tour is likely to begin at the studio's HQ, Warsaw, Poland, since it is the capital city that they have placed as the first city in the graphic attached to the post. In addition, the studio is also expected to visit:
Cologne (Germany),
Tokyo (Japan),
Beijing (China),
Seoul (South Korea),
Paris (France),
Sao Paulo (Brazil),
London (United Kingdom).
In total CD Projekt has announced visits to eight countries, but so far has not revealed when specifically it will visit them. With Phantom Tour, the studio wants to show how much the Cyberpunk community has grown.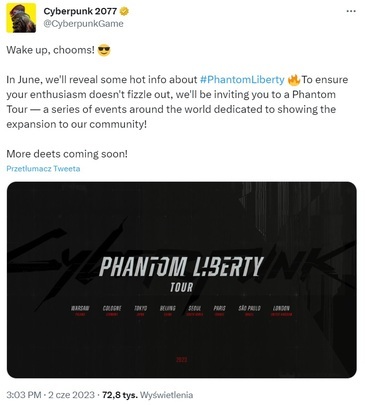 CD Projekt is going on tour with Phantom Liberty. Source: Twitter / Cyberpunk 2077.
The tour will end with the announcement of Phantom Liberty's release date?
Although the DLC for Cyberpunk 2077 has been making waves for quite some time, we still haven't found out when it will launch (other than it's this year). So the announced promotional tour could be the perfect opportunity to officially announce the release date - if we don't find out sooner.
After all, it is worth recalling that the playable version of Cyberpunk 2077: Phantom Liberty will appear at the Summer Game Fest (June 8). Although it will be available only to journalists and content creators, but in all likelihood the general public will at least see a new trailer for the project.
Since its release in 2020, the game has also seen an anime adaptation from Netflix, Edgerunners, which has become something of a surprize hit, garnering a lot of positive reviews and reigniting the gamers' passion for the game.