News
video games
25 April 2020, 19:39
Rumor: Horizon Zero Dawn 2 With Co-op, Trilogy Planned
Rumors suggesting that Horizon: Zero Dawn 2 will offer a co-op mode, and the HDZ series is to be a trilogy have appeared on the web.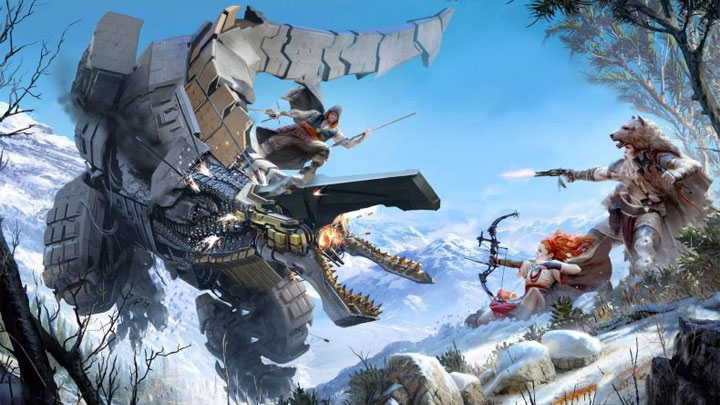 First artworks from Horizon: Zero Dawn suggested a cooperative mode, but eventually this option has a chance to appear only in the second installment.
Horizon: Zero Dawn remains one of the best games available on PlayStation 4, so many people are looking forward to a sequel. It turns out that there may be not one, but two sequels planned. Rumors suggesting that Sony has accepted the developers' plan to make a trilogy have appeared on the web.
The reports come from VGC, which cites well-informed sources close to the projects. According to them, Guerrilla Games wanted to develop a whole games series from the beginning, but they received the green light from Sony after the great success of Horizon: Zero Dawn. For some time now, it's been practically certain that work on the continuation is underway. Initially it was developed for PS4, but then the project was switched entirely to PlayStation 5.
According to the sources, Horizon: Zero Dawn 2 is supposed to have a gigantic scale, giving the players a world much larger than the first installment. The game will offer cooperative gameplay, although it is not clear whether this will be done as part of the story campaign or a separate mode with unique challenges is being prepared. Co-op was an element that the devs had already planned in the first installment, but in the end the option was abandoned to enable the focus on other aspects of game.
Interestingly, at one point it was considered to launch a cooperative title. The progress made by the players would be transferred to the full version of Horizon: Zero Dawn 2. It is not known if these plans are still valid. However, one can imagine that such a smaller project would be a good launch title for PlayStation 5.
As a curiosity it is worth mentioning that during the reveal of PS5's DualSense Sony praised adaptive triggers with variable pressure, saying that they will enable developers to better render e.g. drawing bows. According to VGC's sources, this example application of the technology was taken from Horizon: Zero Dawn 2.
Horizon: Zero Dawn launched in February 2017, exclusively on PlayStation 4. The game was a huge success, selling over 10 million copies. Soon, the hit will also be available to PC gamers. The PC version is coming this summer.