News
video games
02 March 2023, 23:06
NiOh Devs Remain Hot on FromSoftware's Heels - Wo Long Reviews
The first reviews of Wo Long: Fallen Dynasty have appeared online. They are mostly positive, but Elden Ring it is not.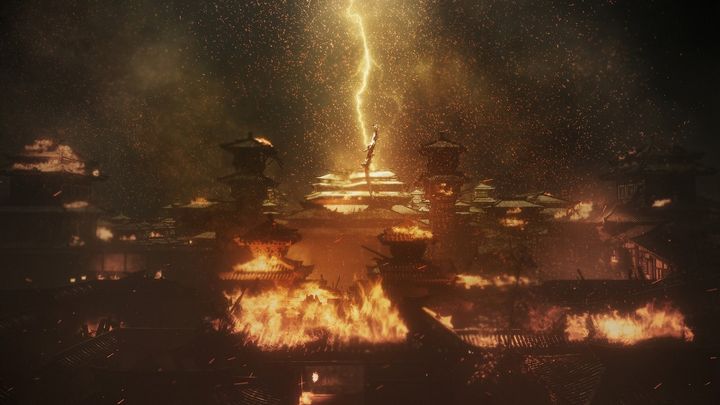 Debuting tomorrow, Wo Long: Fallen Dynasty appears to be one of the most important launches of March. Due to the mechanics characteristic of soulslike games, the work of Team Ninja is being compared to last year's hit - Elden Ring.
Today, first reviews of the latest game from the creators of NiOh strarted to appear on the web. Their overall tone is very positive, although to it does not quite reach the level of FromSoftware's magnum opus. What's more, the average rating from industry media is, at this point, lower than that of the two previous Team Ninja games. NiOh collected scores around 88/100 at launch, while the sequel - 85/100. And how did Wo Long: Fallen Dynasty do?
Wo Long: Fallen Dynasty - selected reviews
PC
True Gaming - 9.5/10
PC Gamer - 89/100
Jeuxvideo.com - 17/20
God is a Geek - 8.5/10
GameStar - 81/100
PCGamesN - 8/10
GameRant - 4/5
Wccftech - 8/10
GameSpot - 8/10
Inverse - 7/10
PC Invasion - 7/10
Metascore - 82/100 (17 reviews)
PlayStation 5
Attack of the Fanboy - 5/5
Digitally Downloaded - 5/5
GamingTrend - 100/100
Inven - 9.5/10
Destructoid - 9/10
PSX Brasil - 90/100 (PS5)
Twinfinite - 4.5/5
Game Informer - 8.8/10
GameGrin - 8.5/10
NoisyPixel - 8.5/10
PlayStation Universe - 8.5/10
IGN France - 8/10
GamesRadar - 4/5
VG247 - 4/5
IGN - 8/10
SpazioGames - 7.9/10
WellPlayed - 7.5/10
GRYOnline.pl - 7/10
Screen Rant - 3.5/5
DualShockers - 6.8/10
Dexerto - 3/5
VGC - 3/5
MGG - 60/100
Metascore - 81/100 (48 reviews)
Xbox Series X/S
Windows Central - 4.5/5
ShackNews - 9/10
XboxEra - 84/100
GamePro Germany - 83/100
Pure Xbox - 8/10
Digital Trends - 4/5
Cultured Vultures - 8/10
Xbox Achievements - 78/100
The Gamer - 3/5
GameReactor UK - 6/10
Metascore - 80/100 (18 reviews)
OpenCritic - 83/100 (69 reviews)
First of all, it is worth noting that many reviewers point out that Wo Long: Fallen Dynasty has skillfully developed the formula known from the NiOh series. Several "superfluous" elements were cut out, and the whole game - although still quite difficult - became more accessible to the average player.
At the same time, the combat system has gained even more speed thanks to the morale function - reminiscent of the stance mechanics from Sekiro: Shadows Die Twice - and being aggressive and taking risks pays off. Several reviews have said that Wo Long: Fallen Dynasty offers some of the best boss battles in the soulslike subgenre..
A frequent criticism has been the low variety of rather dumb common enemies, which is striking despite the fact that the title can be completed in about 20 hours. The recycling of opponents seems even greater than in NiOh. According to many reviewers, (too) many elements were taken from the latter - from resources to technical errors.
The story is also generally praised, although the silent protagonist reportedly does not improve its reception. Pleasant exploration of vertical locations provides numerous rewards, but at a certain stage of the adventure they become "junk" cluttering the backpack, which must be sold. In addition, the character progression system was often pointed out as an advantage. As disadvantages, on the other hand, we have bugs, mediocre graphics and poor optimization on PC.
Overall Wo Long: Fallen Dynasty seems to be a title worth checking out - especially for soulslike fans who are sharpening their teeth for Shadow of the Erdtree DLC for Elden Ring. An additional incentive is the presence of the game in the PC/Xbox Game Pass service. However, even those who do not subscribe can test the title thanks to the demo version providing about 3 hours of fun. It will be available for download on PC, PS4, PS5, XOne and XSX/S until March 27. More details can be found in separate news.