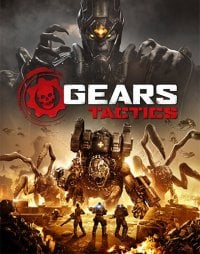 Gears Tactics is a tactical turn-based strategy that is a spin-off of the best-selling Gears of War series. The game, clearly inspired by the XCOM series created by Firaxis Games studio, is the result of cooperation of the Splash Damage team (known for such titles as Wolfenstein: Enemy Territory, Enemy Territory: Quake Wars and Brink) and The Coalition (responsible for the development of the Gears of War brand from 2014).
Plot
The action of Gears Tactics takes place ten years before the events presented in the first part of Gears of War. The players once again find themselves on the planet Sera, where a war has recently begun against the so-called Locusts, monsters that have surfaced and are decimating the population, with no resistance from the people who live there. The main hero of the game is Gabe Diaz, who together with three other soldiers, Marcella "Specter" Trinh, Mikayla Dorn and Sid Redburn, intends to stop the victorious march of Locusts by eliminating its strategist and genetic specialist and creating the most dangerous monsters - Ukkona.
Mechanics
In Gears Tactics, the action is shown from the top-down view. The pillar of the game is a role-playing campaign consisting of various missions. We are disturbed by the numerous Locusts' troops, which we face in turn-based battles, during which we have full freedom in the disposal of the pool of action points.
During the clashes, it is necessary to show a tactical sense and take care of the proper deployment of the members of the unit. Besides that, an important role is played by skillful use of each soldier's abilities, as well as the capabilities of the weapons they lease. While Gabe, who makes excellent use of the cult Lancer (a hybrid of machine gun and motorized saw), and Specter, equipped with a rifle, are excellent in the front line of battle, Mikayla, who prefers the use of a sniper rifle, is perfectly capable of eliminating enemies from a safe distance.
In addition to regular enemies, bosses stand in our way, whose impressive size, resistance to damage and attack strength often require us to change our existing strategy and seek new solutions. However, as we progress, we increase the combat potential of individual soldiers - we provide them with better equipment and unlock new useful skills (and develop the ones they already have) - which allows us to face more and more challenges over time.
Game modes
Unlike the main parts of the Gears of War series, Gears Tactics allows you to play only alone.
Technical aspects
Gears Tactics boasts high quality graphics, which is due to the skilful use of Unreal Engine 4 technology. You may like the detailed design and richly animated enemies, as well as the detailed elements of the surroundings, which has become a standard for the series over the years.
Similar games:
PEGI Rating
System requirements
Minimum:
Intel Core i3 Skylake / AMD FX-6000
8 GB RAM
graphic card 2 GB GeForce GTX 750 Ti / Radeon R7 260X or better
45 GB HDD
Windows 10 64-bit
Recommended:
Intel Core i5 Coffee Lake / AMD Ryzen 3
8 GB RAM
graphic card 4 GB GeForce GTX 970 / Radeon RX 570 or better
45 GB HDD
Windows 10 64-bit