Stellaris Video Game Series
Video Games Encyclopedia by Gamepressure.com

Stellaris: Galaxy Command
Strategy 2021
Real-time space strategy game and a mobile spin-off of Stellaris. Stellaris: Galaxy Command is designed for multiplayer mode. The title is offered in a free-to-play model.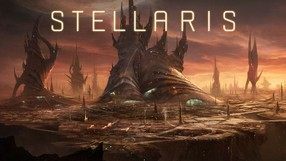 Stellaris
Strategy 09 May 2016
A real-time space strategy with RPG elements developed by Paradox Interactive – the creators of such renowned series as Europa Universalis or Crusader Kings. The game is played in a procedurally generated interstellar space, where your job is to build a galactic empire. A the beginning of the game you choose one of the 7 playable races that differ in appearance, skills, and ethics. The game focuses on exploration and expansion, giving you the choice to subdue other species by force or ally with them, using an advanced diplomacy system. Either way, the nations unwilling to engage in peace talks will have to be persuaded on the battlefield, where battle-hardened fleets serve as your envoys. The title offers three independent technological trees, allowing you to focus on developing your civilization's society, engineering, or physics, depending on your preferences.