News
video games
14 September 2021, 21:12
Call of Duty: Modern Warfare 2 is the Next Installment, Claims Tom Henderson
The next installment of the Call of Duty series may be Modern Warfare 2. This information was provided independently by industry insiders and gaming websites. The game is to be released in 2022.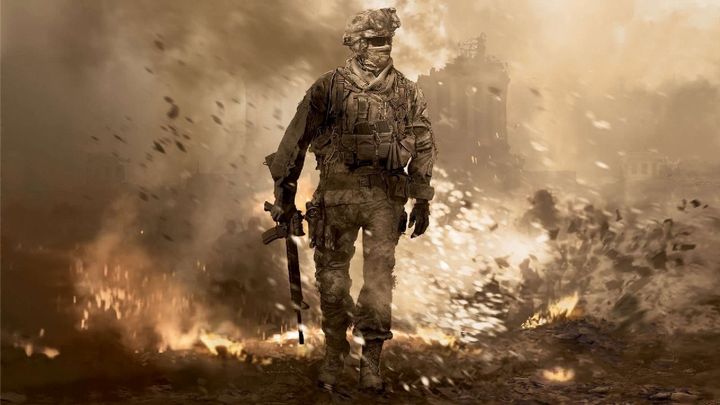 It's no secret that new installments of big franchise are developed simultaneously. This was the case, for example, with Assassin's Creed Origins and Odyssey by Ubisoft and it's no different with the Call of Duty series by Activision. Sledgehammer Games is responsible for CoD: Vanguard to be released November 5, while last year's Black Ops - Cold War was developed by Treyarch and Raven Software. It's no coincidence that Infinity Ward is missing from the list; aside from the ongoing development of CoD: Warzone, they were recently involved in Modern Warfare 2 Campaign Remastered and 2019's Modern Warfare. According to notable insider Tom Henderson, in the meantime the developers have been working on the sequel to the latter, which is set to launch next year as Call of Duty: Modern Warfare 2.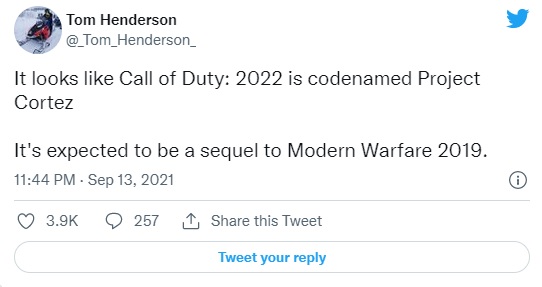 Source: https://twitter.com/_Tom_Henderson_/status/1437532603314327558.
As you can see in the screenshot above, the likely working name of the game is Project Cortez. This is interesting in that the same title was found in the GeForce Now database that leaked yesterday. (we wrote about it here). The data of the publisher (Activision Blizzard) and the developer - Infinity Ward - can be seen on it. What's more, Henderson's reports were independently confirmed by VideoGamesChronicle.com - according to the sources, MW2 will offer a story campaign in which U.S. special forces wage a war against the Colombian drug cartel.
It's interesting to note that a movie titled Clear and Present Danger was released in 1994 with Harrison Ford in the lead role, in which actor Joaquim de Almeida played Colonel Felix Cortez... who was connected with a Colombian drug cartel. So it's possible that this adaptation of Tom Clancy's novel of the same name was a source of inspiration for the devs of the new Call of Duty. However, the coincidence of names may be just that. It's worth taking these leaks with a pinch of salt and wait until Activision officially announces the game. Which is unlikely to happen too soon.