News
video games
06 January 2022, 11:43
Director of Days Gone - Over 9 Million Copies Sold, Still a Failure for Sony
The director of Days Gone has revealed that the game has sold over 9 million copies. Despite this, Sony still considers this as a failure.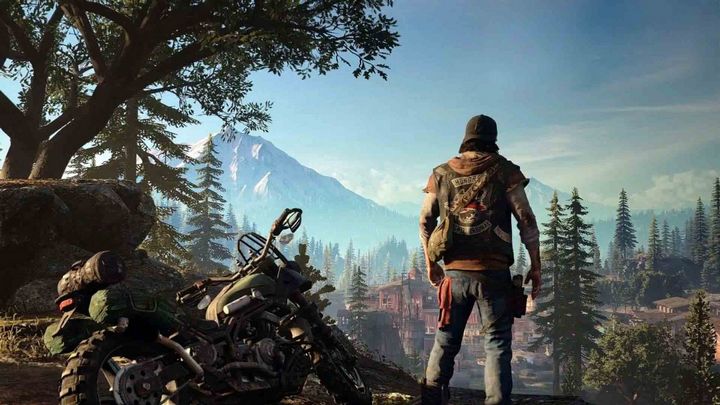 IN A NUTSHELL:
one of the developers of Days Gone complains that the game has sold a similar number of copies as Ghost of Tsushimaand yet it was considered a failure, while GoT is seen as a huge success.
However, this is not a completely fair comparison, as Ghost of Tsushima sold brilliantly at full price, while too many times have players wanting to purchase Days Gone waited for bargains of sales.
What is more, GoT received much better reviews.
Yesterday, Sucker Punch studio boasted that Ghost of Tsushima has sold over 8 million copies. This result was considered a success and made the developers happy, unlike Jeff Ross, who previously worked on Days Gone and now claims that similar results of the game he used to work on were considered disappointing. Ross said that this caused him to abandon plans to develop a sequel.
The man left Sony's Bend studio 19 months after the launch of Days Gone. At the time, the game had sold more than 8 million copies, and since then this figure has increased. In addition, the game found more than a million buyers on Steam. So in total, sales have strongly exceeded 9 million units. Despite this, the achievements of the game were considered weak, and managers did everything they could to convince developers that they failed.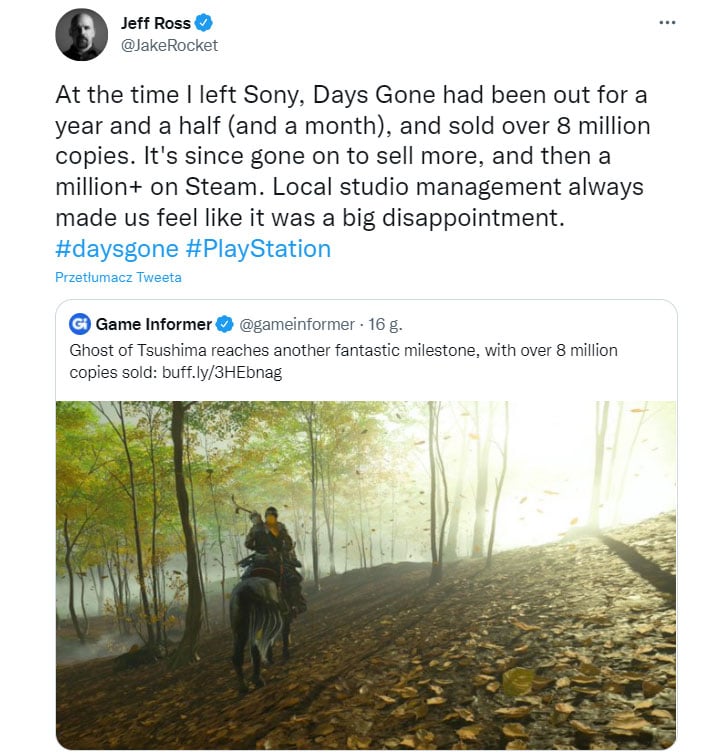 You might be interested in:
Ghost of Tsushima was released in July 2020. Thus, the game crossed the threshold of 8 million copies sold in less than eighteen months after its release, which is not much faster than Days Gone. It's no surprise, then, that Ross is frustrated that in the case of one game such a result was considered a success, while in the case of the other it was treated as a failure.
Of course, simply comparing the number of copies sold doesn't give the full picture. Last year, the creative director of Days Gone complained that the game's failure was due to the fact that too many players bought the game on sale, rather than purchasing it at full price immediately after release. Sony wasn't too happy about the performance of the game in the months following its debut, suggesting that it wasn't very impressive. However, Ghost of Tsushima became the fastest-selling new brand in Sony's history, finding over 2.4 million buyers in just three days after its release.
The reception of both games is also crucial in this case. Ghost of Tsushima has an average rating of 83% on Metacritic. In the case of Days Gone it is only 71%. It is also worth recalling that in March 2021, the story campaign of the former was completed by more than 50% of the owners of the game, while in the case of Days Gone it was only 34%, despite the fact that the game was on the market longer. This shows that the samurai adventure delivered by Sucker Punch was much more to the players' liking.
Taking all this into account, it does not come as a surprise that for a long time there have been rumors about the Ghost of Tsushima's sequel being developed. However, the plan to develop Days Gone 2 have been abandoned, and Bend is currently working on a new brand for Sony.