News
guides
21 April 2023, 12:41
Minecraft Legends - How to Get First of Stone; Legendary Mobs Explained
In this guide we will tell you how to unlock First of Stone and other Legendary Mobs. Read our text to learn more.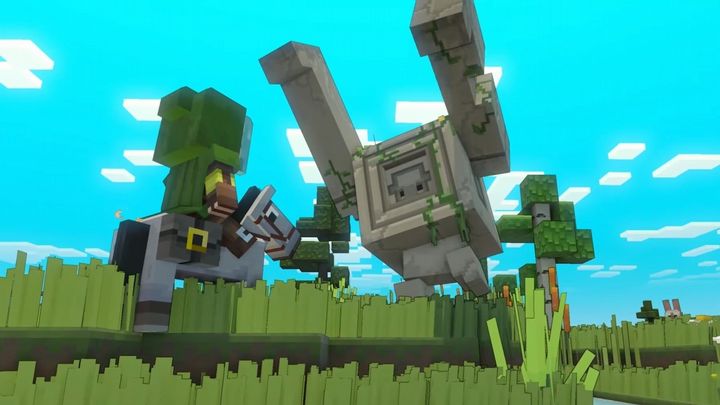 On April 15th we welcomed a new game from Mojang Studios – Minecraft Legends. It is yet another Minecraft related game after original Minecraft and Minecraft: Dungeons. This time the player is tasked with defending the Overworld from the Piglins. The game takes a strategy-action spin, reminding with its core mechanics warmly received Overlord from 2007. Minecraft Legends focuses on making friends and allies to form armies and fight in dynamic battles. The game features many creatures that can aid the player in combats. The most powerful are First of golems called "Legendary Mobs" by many members of the community.
Legendary Mobs, how to unlock the First of Stone
All First of golems can be found in the same way. Getting Legendary Mobs, including First of Stone, is not straightforward as the game incorporates randomisation. That means that the location itself is not fixed and requires poking around in order to find it. However, it is worth the trouble, as they are very powerful and useful creatures. You can learn more about them here.
Before finding the Legendary Mobs, it is necessary to complete the Night Beacon quest first. With this mission completed, the player is required to construct Improvement: Wake the Firsts. It costs 100 stone and 100 prismarine resources. Unlocking the Firsts also costs gold and other materials.
Locating the Legendary Mobs and their unlocking cost
The First of Stone golem can be found in the Meadow Region. Waking it up requires 100 gold and 500 stone.
The First of Oak Legendary Mob is located in Badlands biome. Activating it costs 100 gold and 500 wood.
The First of Brick mob resides in Dry Savanna location. To activate it, 100 gold and 125 iron is required.
The First of Diorite is placed in Jagged Peak biome and costs 100 gold and 125 coal.
Read also: