Cities: Skylines Expansions & DLCs
Game Expansions and DLCs available for Cities: Skylines Video Game.
Game Expansions for Cities: Skylines

Cities: Skylines - Sunset Harbor
Strategy 26 March 2020
The ninth major expansion to the economic strategy Cities: Skylines. In Sunset Harbor, players can design cities on picturesque bays, and among the novelties are additional industry (fishing) and urban transport issues.

Cities: Skylines - Campus
Strategy 21 May 2019
Eighth major add-on to the 2015 economic strategy Cities: Skylines. Enlargement focuses on education. It introduces into the game the possibility of creating special academic zones and introducing scientific projects.

Cities: Skylines - Industries
Strategy 23 October 2018
A DLC for Cities: Skylines, in which the authors focused on expanding elements related to the industry. In Cities: Skylines - Industries, players can create specialized districts and build unique buildings, such as warehouses and factories.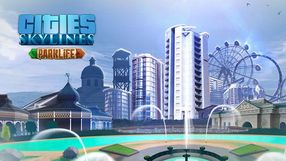 Cities: Skylines - Parklife
Strategy 24 May 2018
The fifth large expansion pack to the popular economic strategy game Cities: Skylines. It focuses on various parks – from amusement parks to nature reserves. It introduces various decorations and buildings related to parks, eleven new laws and new tourism options. The building system was improved as well – the players don't need to place the buildings next to roads while in park districts.

Cities: Skylines - Green Cities
Strategy 19 October 2017
Another expansion to Cities: Skylines - a popular city builder strategy game developed by Colossal Order. As the title might suggest, this add-on allows a player to create environment-friendly cities. Apart from over two hundred new buildings (e.g. shops selling healthy food), Green Cities introduces new specializations for particular districts (which can be developed as one progresses through the game), four new types of regulations, and a number of cosmetic novelties - a player can erect a special monument to honor his services to the environment. Even though in Cities: Skylines - Green Cities, one can erect entirely new and eco-friendly cities, which do not pollute the environment at all, there is nothing standing on his way to utilize the new solutions for the infrastructures he has already built, e.g. to balance the previous construction plans.

Cities: Skylines - Concerts
Strategy 17 August 2017
Another add-on to the economy strategy game Cities: Skylines, developed by Colossal Order. This time the player, assuming the role of a mayor, gets a chance to organize a variety of music festivals in their city. Your duties include not only erecting new buildings, where you can invite stars and idols, but also managing individual concerts, running advertising campaigns and securing the budget (for example for the event's security) by introducing new laws. Expanding the festival area results in a better show and makes it possible to hold more people, which translates to more profit coming onto your virtual account. The last innovation left to mention, of those introduced by Cities: Skylines - Concerts, is Live, a new radio station devoted strictly to music.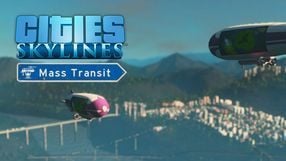 Cities: Skylines - Mass Transit
Strategy 18 May 2017
Cities: Skylines - Mass Transit is the fourth expansion to Cities: Skylines developed by the Finnish studio Colossal Order. Mass Transit requires the base game to be playable. This add-on expands the aspects of public transport, introducing new means of transportation for our citizens to use. Now, people who live in our virtual cities can travel by ferries, cable cars, monorails, or even by zeppelins. Communication centers, special buildings where quick transfers between buses or means of transportation happen, play a crucial role in this expansion. The list of novelties introduced by Cities: Skylines - Mass Transit is closed by new types of roads, bridges, buildings, and political plans. The expansion also introduces bonus scenarios where players will have to face challenges connected with traffic management and solving communication problems.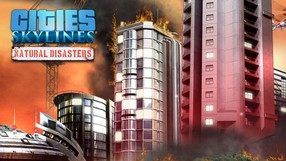 Cities: Skylines - Natural Disasters
Strategy 29 November 2016
The third paid expansion to the successful economic strategy game Cities Skylines in which the player is building modern cities and manages their economy and industry. As the title suggests, Cities Skylines – Natural Disasters expansion introduces various cataclysms that can devastate player's cities. Among them there are fires, meteor impacts, hurricanes and earthquakes. In order to deal with new challenges, the players can use various preventive means, such as an early warning system or evacuation. A radio is used to warn the people, and during peaceful times it can be used for listening to new music tracks. The Natural Disasters expansion introduces a long-awaited novelty – scenario mode that enables the player to create custom missions with a selected starting city and winning conditions. The created missions can be shared through the Steam Workshop.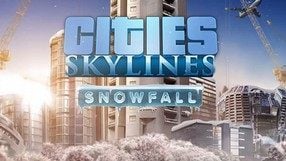 Cities: Skylines - Snowfall
Strategy 18 February 2016
The second large expansion for Cities: Skylines, an economic strategy game developed by Colossal Order. The Snowfall add-on introduces changing weather conditions and temperature fluctuation that can significantly influence the functioning of our city. As the temperature goes down, the citizens consume a lot more power, requiring us to meet the increased demand for electricity or build a municipal central heating system. Apart from rain and fog, which are both purely cosmetic events, a heavy snowfall can be a serious problem for the mayor as it paralyzes traffic and necessitates additional spending for snow clearing. Furthermore, the expansion offers a myriad of new buildings connected to the theme of winter, improved city transport management, and the long-awaited trams that complement the list of available means of public transportation.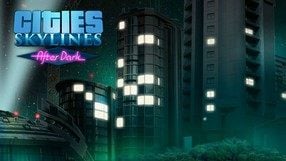 Cities: Skylines - After Dark
Strategy 24 September 2015
An official expansion to Cities: Skylines, an economic strategy game released in 2015 and developed by the creators of Cities in Motion series - Finnish studio Colossal Order. In accordance with the add-on's title, the biggest innovation it introduces is a dynamic day and night cycle. More importantly, this is not just a cosmetic feature, because at night your citizens engage in entirely different activities, and the traffic is reduced. The expansion adds a set of new, typically night-themed buildings and options. It also introduces commercial area specializations, which depend on their location. The authors also included taxi services, bikes and bike lanes, huge international airports, and prisons, where criminals caught by the police are incarcerated.
DLCs for Cities: Skylines
PCPS4XONESwitchPS5
90's Pop Radio
DLC 23 May 2023
PCPS4XONESwitchPS5
Content Creator Pack: Brooklyn & Queens
DLC 23 May 2023
PCPS4XONESwitchPS5
Content Creator Pack: Industrial Evolution
DLC 23 May 2023
PCPS4XONESwitchPS5
Content Creator Pack: Railroads of Japan
DLC 23 May 2023
PCPS4XONESwitchPS5
Hotels & Retreats
DLC 23 May 2023
PCPS4XONESwitchPS5
Piano Tunes Radio
DLC 23 May 2023
PCPS4XONESwitchPS5
Pop-Punk Radio
DLC 22 March 2023
PCPS4XONESwitchPS5
JADIA Radio
DLC 22 March 2023
PCPS4XONESwitchPS5
Content Creator Pack: Shopping Malls
DLC 22 March 2023
PCPS4XONESwitchPS5
Content Creator Pack: Africa in Miniature
DLC 22 March 2023
PCPS4XONESwitchPS5
Content Creator Pack: Sports Venues
DLC 22 March 2023
PCPS4XONESwitchPS5
80's Movies Tunes
DLC 22 March 2023
PCPS4XONESwitchPS5
80's Downtown Beat
DLC 15 February 2023
PCPS4XONESwitchPS5
Calm The Mind Radio
DLC 15 February 2023
PCPS4XONESwitchPS5
Carols, Candles and Candy
DLC 15 February 2023
PCPS4XONESwitchPS5
Content Creator Pack
DLC 15 February 2023
PCPS4XONESwitchPS5
African Vibes
DLC 15 February 2023
PCPS4XONESwitchPS5
Airports
DLC 15 February 2023
PCPS4XONESwitchPS5
Content Creator Pack: Map Pack
DLC 15 February 2023
PCPS4XONESwitchPS5
Content Creator Pack: Map Pack 2
DLC 15 February 2023
PCPS4XONESwitchPS5
Content Creator Pack: Mid-Century Modern
DLC 15 February 2023
PCPS4XONESwitchPS5
Content Creator Pack: European Suburbia
DLC 15 February 2023
PCPS4XONESwitchPS5
Content Creator Pack: Heart of Korea
DLC 15 February 2023
PCPS4XONESwitchPS5
Content Creator Pack: Train Stations
DLC 15 February 2023
PCPS4XONESwitchPS5
Content Creator Pack: Vehicles of the World
DLC 15 February 2023
PCPS4XONESwitchPS5
Content Creator Pack: Seaside Resorts
DLC 15 February 2023
PCPS4XONESwitchPS5
Content Creator Pack: Skyscrapers
DLC 15 February 2023
PCPS4XONESwitchPS5
Content Creator Pack: Bridges & Piers
DLC 15 February 2023
PCPS4XONESwitchPS5
Financial Districts
DLC 15 February 2023
PCPS4XONESwitchPS5
K-pop Station
DLC 15 February 2023
PCPS4XONESwitchPS5
Radio Station Pack
DLC 15 February 2023
PCPS4XONESwitchPS5
Shoreline Radio
DLC 15 February 2023
PCPS4XONESwitchPS5
Plazas & Promenades
DLC 15 February 2023
PCPS4XONESwitchPS5
On Air Radio
DLC 15 February 2023
PCPS4XONESwitchPS5
Paradise Radio
DLC 15 February 2023
PCPS4XONESwitchPS5
Pearls From the East
DLC 15 February 2023
PCPS4XONESwitchPS5
Synthetic Dawn Radio
DLC 15 February 2023
PCPS4XONESwitchPS5
Country Road Radio
DLC 24 May 2018
PCPS4XONESwitchPS5
All That Jazz
DLC 05 December 2017
PCPS4XONESwitchPS5
Rock City Radio
DLC 18 May 2017
PCPS4XONESwitchPS5
Relaxation Station
DLC 29 November 2016
PCPS4XONESwitchPS5
Content Creator Pack: High-Tech Buildings
DLC 29 November 2016
PCPS4XONESwitchPS5
Stadiums: European Club Pack
DLC 18 October 2016
PCPS4XONESwitchPS5
Content Creator Pack: Art Deco
DLC 01 September 2016
PCPS4XONESwitchPS5
Match Day
DLC 08 June 2016